(Guest Post)–  Maintenance delays and unexpected downtime are just some of the pressures the civil aviation industry must deal with on a regular basis. To continue driving efficiency and increase healthy bottom-line benefits, the aviation industry must adopt more advanced, connected equipment. This ensures company assets continue to perform properly and function efficiently.
It's imperative that the civil aviation industry transforms to adopt emerging technologies. Not only is there a need to cut fuel costs and reduce carbon emissions; there's also a demand to improve air safety and the bottom line.
 Emerging aviation MRO technologies utilizes innovative novel solutions that lowers repair and maintenance spend while eliminating delays in take-offs and landings.
This sees aircraft maintenance companies in the UAE and abroad employing cutting-edge technologies to improve repair, maintenance, and training. And, simultaneously adhering to stringent compliance requirements and strict international safety regulations. These key three emerging MRO technologies are transforming civil aviation and air travel.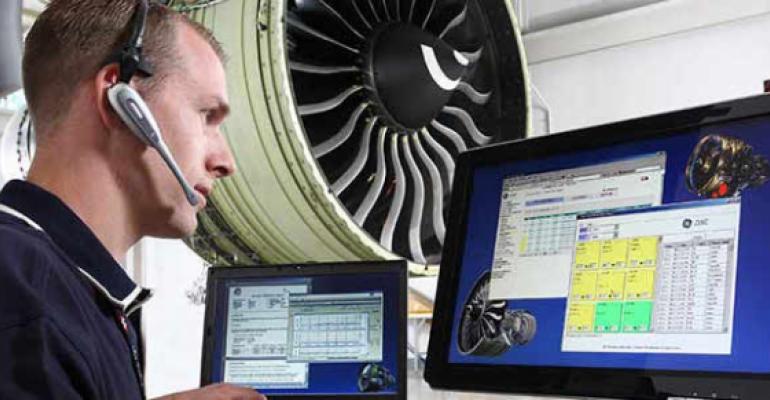 1.  3D printing
One emerging MRO technology that's increasingly stepping forward is 3D printing or "additive manufacturing."
As demand for air travel continues to grow exponential, 3D printing is becoming a 'must-have' for many manufacturers. Indeed, 3D printing is meeting the ever-increasing requirement for efficient MRO in civil aviation. 3D printing offers this asset-intensive industry a solution to its supply chain problem.
The ability to provide an immediate replacement when a component is faulty or has reached its end life creates positive effects on MRO operations. 3D manufacturing allows MRO enterprises to manufacture the required component in a cost-effective and timely manner. Not to mention, being able to manufacture the required part on-site.
2.  IoT-enabled devices
The Internet of Things (IoT) is a revolutionary technological game changer and a promising emerging tech in the MRO industry. In a data-heavy industry like aviation, IoT is a transformative technology platform that is forecasted to impact many verticals throughout the industry.
IoT does more than just transform big data into actionable, real-time benefits. It enhances the power of prediction, driving better decision-making and performance data. IoT can also be used to detect minor faults, ensuring maintenance and repair functionalities are performed before minor faults elevate into major problems.
IoT is being embraced by all aspects of civil aviation. Leading independent MROs are the only ones implementing IoT-enabled devices. Airports are following suit. Tools like facial recognition software in airports improve passenger experience by reducing queue times at security, lost luggage, and even flight delays.
As it continues to expand, IoT will become more prevalent in avionics systems. This allows the aviation industry to be more proactive in forecasting potential problems to minimize aircraft downtime and improve service management.
3.  The utilization of augmented reality
In recent years, the airline industry has seen a rapid expansion in global air passengers. Particularly in the Asia-Pac and the Middle East and North Africa regions.
 This boom in the civil aviation industry though has been hindered by a shortage of fully-qualified and certified maintenance personnel.
It currently requires eight years for a maintenance worker to become fully licensed. A time frame that the booming aviation industry simply cannot wait for. To meet the demand of a skilled workforce, the MRO industry has turned to augmented reality (AR) technologies for innovative solutions.
AR bridges the skills shortage gap by providing virtual training centers wherever maintenance workers are in the world. It facilitates knowledge sharing despite geographical restrictions. This ensures legacy knowledge and experience is not lost as the older workforce retires en masse.
AR adoption also extends beyond the virtual classroom. MRO enterprises have begun to employ AR solutions within their maintenance divisions to improve maintenance productivity and performance. The advent of wearable technology such as Google Glass gives maintenance workers access to a depth of knowledge and expertise to guide them through even the most complex of tasks.
The civil aviation and the MRO industry continues to grow in complexity. Airlines and maintenance providers alike look to leaner processes while still adhering to strict industry regulations and rising global demand. This increasing complexity though is met with emerging aviation MRO technologies set to create greater accountability and a more organized and efficient working environment.
AUTHOR BIO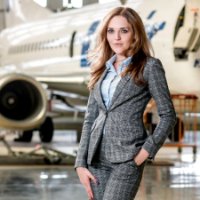 Viktoria Grokhovskaya is an independent aviation expert currently working within the aircraft maintenance, repair and overhaul (MRO) industry in the UAE.
She received her bachelor's degree in Management and a Specialist Diploma in Economics and Management at the Enterprise from Astrakhan State Technical University