(Engadget)–  Apple's new iPad isn't actually that new: It was heavily leaked, for one, and, importantly, it's just about the same as the basic iPad it replaces. The company unveiled the device today at what was billed as an education-focused keynote today.
Indeed, it was held at a Chicago high school, with frequent cameos from teachers, the most important group this device is being marketed for. As you'd expect of Engadget at an Apple keynote, my colleague Chris Velazco and I had a brief chance afterward to handle the new tablet.
Whereas Apple product unveilings are typically showcases for shiny new hardware, though, this time the physical trappings are mostly an afterthought. What we have here is a revised version of Apple's existing 9.7-inch iPad, with the biggest change being support for the Apple Pencil. (It's still sold separately.)
I could tell you about the aluminum enclosure, available in several colors; how light it is, at one pound; the 8-megapixel camera; and the A10 Fusion Chip borrowed from the iPhone 7. But that's all beside the point. What really matters is how teachers use it.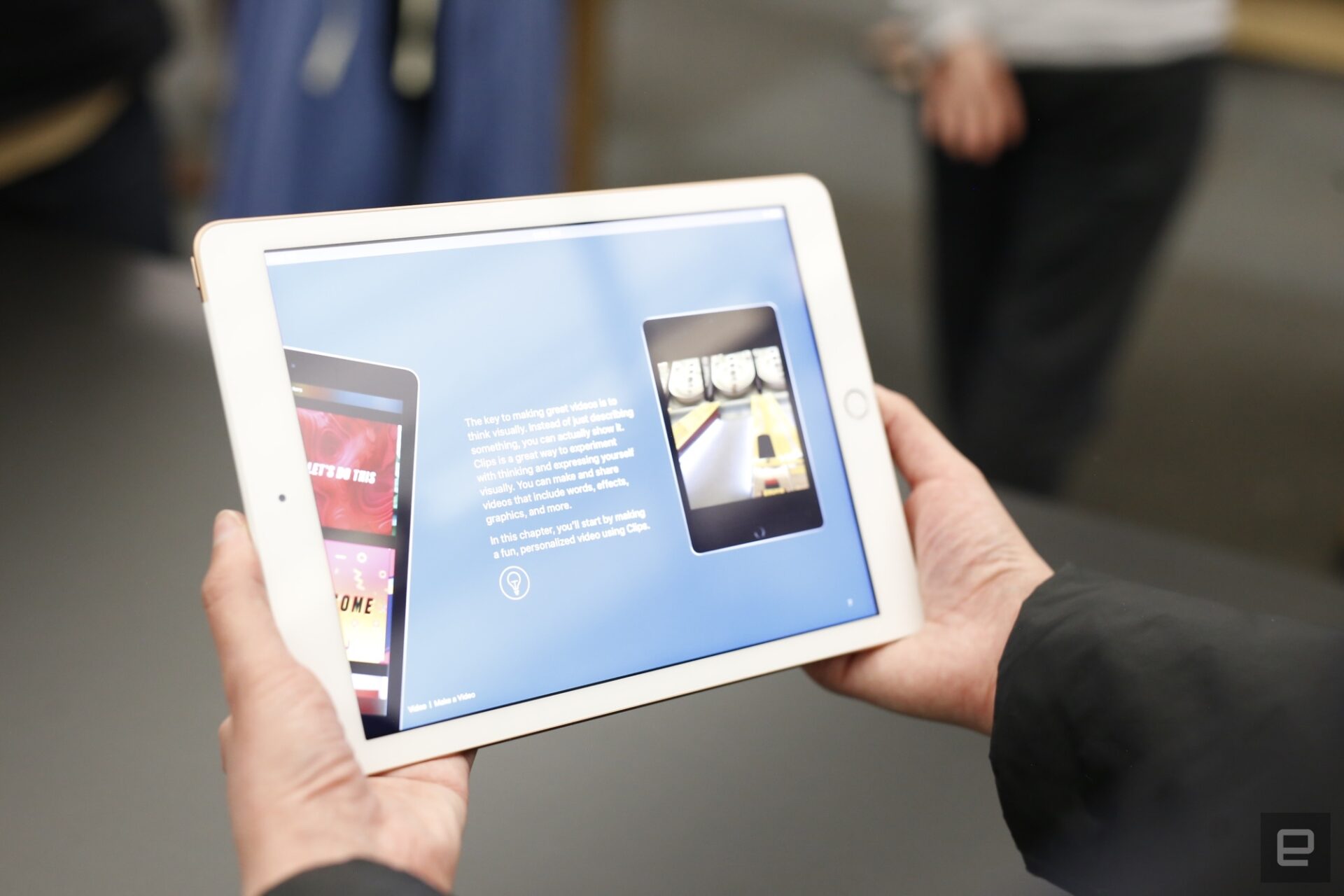 Until now, the Apple Pencil has been reserved for the high-end iPad Pro line. And the use cases you were familiar with were probably note-taking apps and painting suites. That's a fine sales pitch when you're a grown-up with a creative job, but it makes less sense for classrooms. Children don't just need to take notes; they need to follow through with lessons and activities in various classes.
And for many students, they're not art classes, either — not with the cuts to arts funding that many school districts are seeing. (Incidentally, those same budget cuts might continue to push educators toward Chrome OS devices if they can still be had for less than a $299 iPad.)
What we saw today, though, throughout Apple's keynote, was an endeavor to show how drawing and note-taking needn't be distinct activities. What if instead, you could draw inside apps meant to teach other subjects, like history or geology?
In part, Apple is spearheading this push on its own. For starters, its Pages, Numbers and Keynote iPad apps all received updates, available today, that allow for use of the Apple Pencil inside the app. In one demo here at the school, for instance, I drew on a geology diagram in Keynote.
I had my choice of writing implements and colors. And when I was done, I could have my drawings reanimate themselves as line drawings, with the playback slow enough for a teacher and other students to potentially follow along in a real-world setting.
And those are just Apple's own apps. The company was keen to showcase a number of third-party apps today as well, including one that lets you dissect virtual frogs with a pencil, instead of your hands and a scalpel.
(The company also made repeated references to the number of iPad apps available, and those designed specifically for the Pencil and/or for education.) Apple's message is clear: It wants to remind teachers that the iPad is useful in classrooms, and that the Pencil in particular is more than just idle doodling.
But the experience isn't just about the Pencil anyway. Apple was also keen today to show off a number of augmented reality apps that take advantage of the main 8-megapixel camera. During the keynote, the company showcased an app that takes kids on a virtual museum trip.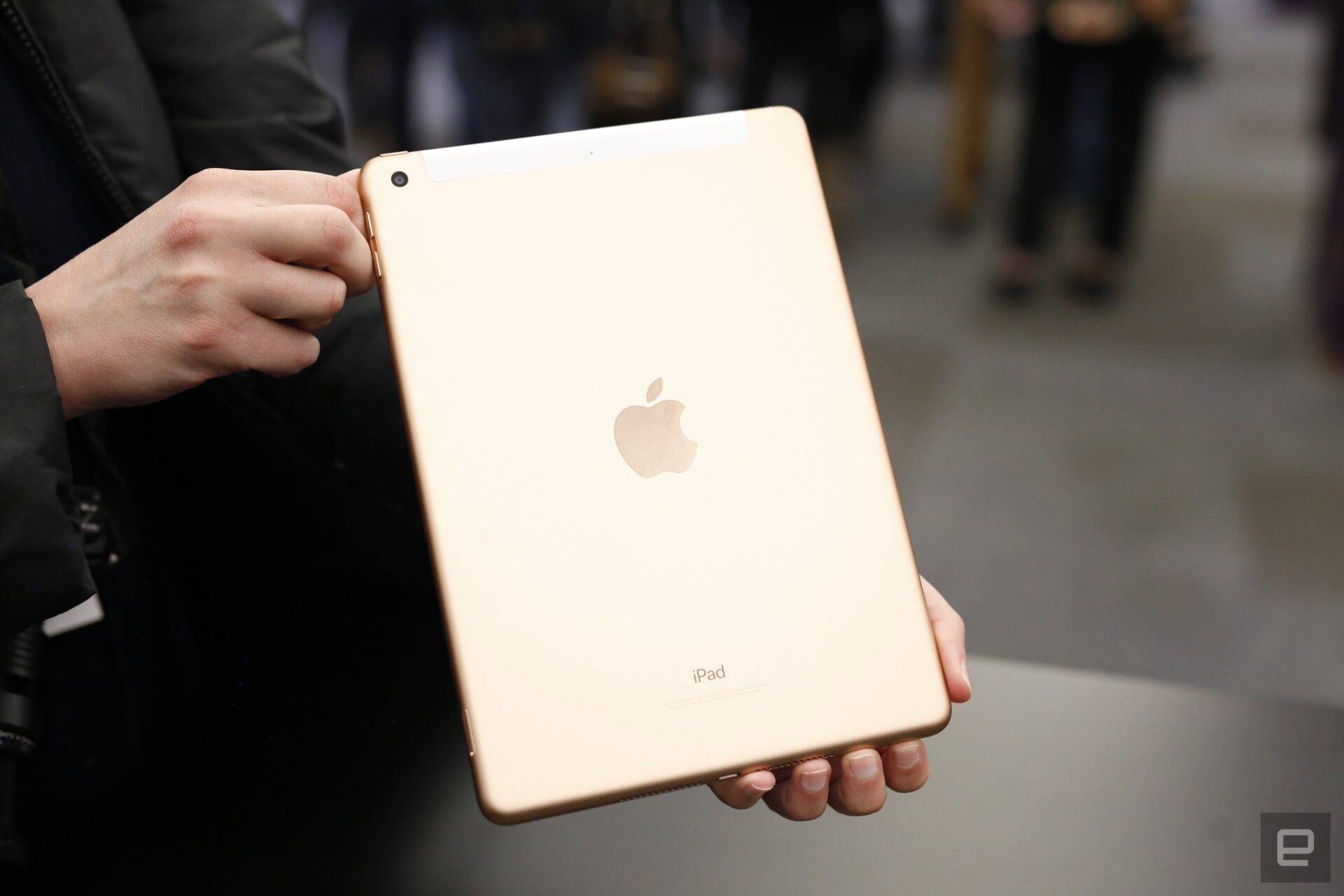 The portraiture on display looked impressive enough on the iPad's Retina screen, but users could also walk around painting to discover curious, true-to-life details on the backs of the frames. In the demo room, we saw an app that focused on anatomy.
(You can see an glimpses of an augmented hand in our, uh, hands-on photos.) And next to a net-enclosed drone zone, an Apple spokesperson showed off a forthcoming update to Swift Playground in which students can write code to direct real robots and robots that exist solely as AR avatars.
As a reporter, I must say this has been an odd unveiling. I'm not referring just to the unusual setting, or even the fact that it was so software-focused. For once, this product isn't really for me. Or even necessarily you. The people who will ultimately buy the new iPad and buy into its ecosystem are the same people who will be most excited by the $299 price: That would be teachers and the school districts that control their budgets.
Incidentally, I also believe those are the best people to ultimately review the experiences being shown off today in a crowded room at a Chicago high school.
Is the iPad versatile and easy to use enough that it might steal some market share from Google? That is ultimately for educators and their students to decide. Which is why it makes sense that today's keynote was a rare presentation by, and for, teachers.
Source:: Engadget