Do you know that Automattic, Inc is closing its San Francisco office because its employees never show up. Automattic is the company we are talking about, the technology company that owns WordPress.com, has a beautiful office in a converted San Francisco warehouse, with soaring ceilings, a library, and a custom-made barn door. If you like the space, this is in fact a very beautiful office.But why such a hit?
About Automattic, Inc.

Automattic, Inc. is a web development corporation founded in August 2005. It is most notable for WordPress.com (a free blogging service), as well as its contributions to WordPress (open source blogging software). The company's name plays on its founder's first name, Matt.Automattic raised US$317.3 million in five funding rounds. In the last round, on May 2014, the company was valued at US$1.16 billion.The company has 548 employees.Its culture was the topic of a participative journalism project by Scott Berkun, entitled The Year Without Pants: WordPress.com and the Future of Work.
They are a distributed company with 563 Automatticians in 56 countries speaking 78 different languages. Our common goal is to democratize publishing so that anyone with a story can tell it, regardless of income, gender, politics, language, or where they live in the world.They believe in Open Source and the vast majority of our work is available under the GPL.
Why the CloseDown?
According to Quartz;  The office at 140 Hawthorne went on the market after CEO Matt Mullenweg came to the realization not enough employees used it. As he explained on the Stack Overflow podcast earlier this year:
We got an office there about six or seven years ago, pretty good lease, but nobody goes in it. Five people go in it and it's 15,000 square feet. They get like 3,000 square feet each. … There are as many gaming tables as there are people.
Automattic has always given its 550 employees the choice of working remotely; the San Francisco space was an optional co-working space, spokesman Mark Armstrong said. The company maintains similar offices in Cape Town, South Africa, and outside Portland, Maine, and gives employees a $250-a-month stipend if they want to use commercial co-working offices elsewhere. And if they'd rather work at Starbucks, Automattic will pay for their coffee.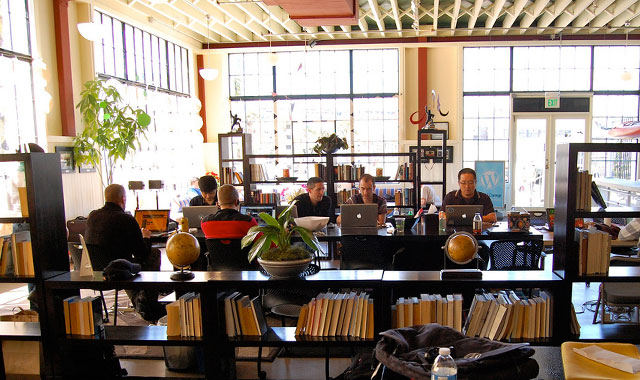 While Automattic fervently embraces remote working, other companies have gotten cold feet. In 2013, Marissa Mayer, then the CEO of Yahoo, famously ended the company telecommuting policy, telling employees in a memo from HR that for the best results "we need to be working side-by-side."
More recently, IBM—a pioneer of remote working—told thousands of US employees they'll need to begin working in offices. The goal is to make the company's workforce more nimble and, similar to Yahoo's aim, to foster creativity through working "shoulder-to-shoulder." But to employees who have built a life around working from home, IBM's still-theoretical productivity gains come as small consolation.About a quarter of US employees work remotely all or some of the time, according to Gallup. There's evidence that these employees work longer hours than their office-bound colleagues. But it can come with costs.
Elastic, a software company, has no headquarters and 500 employees in about 35 countries. To build a common culture, the company brings them together periodically, flying hundreds of engineers to the US or Europe to meet twice a year, said CEO Shay Banon. When employees don't know each other, and their only interactions are via email, text, or messaging services like Slack, "disputes can blow up very quickly," Banon said. "If you don't see facial expressions, you miss cues."
To prevent conflicts from escalating, Elastic maintains a constant video channel. "One of the rules we have is when something gets to a boiling point, go to video and chat it out," he said.
Recap of their Projects
The company have embarked on series of great projects, which includes:
After the Deadline – online proofreading tool
Akismet – anti-comment spam system capable of integration with many blogging platforms and forums
bbPress – forum software
blo.gs – RSS feed aggregator
BuddyPress – social networking plugin suite
Cloudup – file sharing application
Ping-O-Matic – pinging service
GlotPress – collaborative translation tool
Gravatar – globally recognized avatars
IntenseDebate – a blog comment hosting service that was launched as a private beta in January 2007 by Co-Founders Jon Fox, Isaac Keyet, and Josh Morgan,[12] and launched as an open beta on October 30, 2007. On September 23, 2008, Automattic announced its acquisition of IntenseDebate's properties,[13] and returned to private beta until November of that year.In 2007, IntenseDebate was selected to be part of the first class of Techstars, a Boulder, Colorado based startup accelerator.
Longreads – journalism aggregator[14]
PollDaddy – polls and survey tools
Poster – A blogging app for IOS[15]
Simplenote – note-taking and sync service based on another Automattic project simperium.com
Scroll Kit – A code-free web design tool[16]
WordPress.com VIP – enterprise services for WordPress websites
VaultPress – backup and security service for WordPress sites
VideoPress – hosted HD video for WordPress sites
Jetpack by WordPress.com – WordPress.com features for WordPress.org sites
WooThemes – Premium WordPress Themes, Plugins & eCommerce
WooCommerce – WordPress eCommerce
To me this close down is purely technological.With the help of communication technology we do not always need to show up at our workplaces.But my disclaimer is this does not go with every work.What do you also make of the close down?