This is the Exclusive McLaren 570S Spider supercar. I hold a strong conviction that everyone under the sun loves supercars.But the question is, what makes them stand out? It can be their gorgeous nature, aerodynamic,power,edge and above all their superspeed. That is what McLaren 570S Spider stands for.Simply McLaren wants to change that perception with the release of the 2018 570S Spider, calling it the "most attainable" sports car evermade.
McLaren Automotive (often simply McLaren) is a British automaker founded by Bruce McLaren and is based at the McLaren Technology Campus in Woking, Surrey. It produces and manufactures sports and luxury cars, usually produced in-house at designated production facilities.
The 570S Spider is only 46kg heavier than the coupe and maintains the hardtop's structural rigidity thanks to its carbon tub chassis.Now lets have a closer look at its features.The 570S's 3.8-litre twin-turbo V8 remains unchanged, so it still offers 562bhp and 443lb ft of torque. The 0-62mph sprint time is the same as the coupe, at 3.2 seconds, but top speed is lowered to a still very quick 196mph (from 204mph) when the roof is down. Hat wearing will be ill-advised at that speed.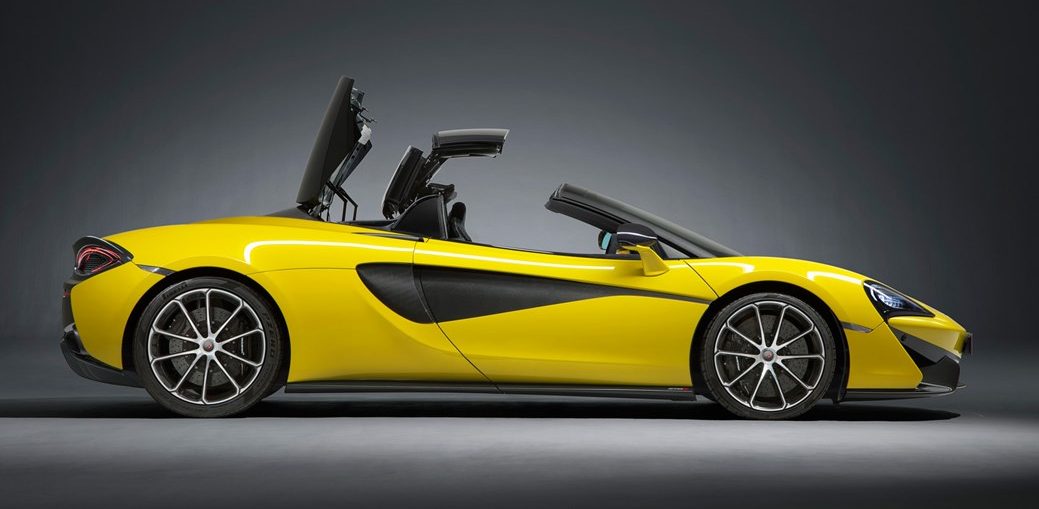 According to CarMagazine, The two-piece roof is made from carbonfibre and takes 15 seconds to open or close at speeds up to 25mph. When it's up, the roof blends into two sweeping buttresses that rise from the rear deck. The Spider's rear spoiler has been extended ever so slightly to accommodate the changes to the rear shape.
At launch, the first 400 models will be Launch Edition cars, much like the 720S. We'll see it first at the 2017 Goodwood Festival of Speed and if you've got at least £164,750 to spend on a new drop-top sports car, the 570S Spider is available to order now.
About the Company

The McLaren Technology Centre officially opened in 2004. and a McLaren Production Centre was founded in 2011. The two facilities are connected by a subterranean walkway with the MPC was built partially underground to minimise its presence. Designed by Lord Norman Foster, the MTC is an embodiment of the company's design and engineering expertise.
Situated on more than a hundred acres, the MTC curves around an artificial lake that helps cool the building and adjoining wind tunnel that is used for testing aerodynamic parts and set-ups. Facilities include design studios, laboratories and testing and production facilities for both McLaren Racing and Automotive, a cafeteria, a fitness centre and swimming pool.
The McLaren Technology Centre Boulevard also houses over 50 years of McLaren cars, starting 1929 Austin 7 Ulster in which McLaren won his first race in 1954. MTC is also home to over 500 McLaren Racing Trophies, majority of which come from podium place finishes in F1 with the remaining consisting of a mix of Indycar, Can-Am and off-track awards.