China next generation bullet train debuted on the Beijing-Shanghai line on Monday. A CR400AF model departed Beijing South Railway Station at 11:05 a.m. for Shanghai. At the same time, the CR400BF model left Shanghai Hongqiao Railway Station for Beijing. The new bullet trains, also known as electric multiple units (EMU), boast top speeds of 400 kilometers an hour and a consistent speed of 350 kilometers an hour.
As we speak now, China has the world's longest railway network, 22,000 kilometers by the end of 2016, about 60 percent of the world's total. Beijing-Shanghai railway line is China's busiest route, used by 50,5000 passengers daily.The bullet train also comes with an ultra modern passenger comfort.
The bullet train is Touted by the Chinese press as "completely engineered by domestic industries," the Revival train could conceivably complete the 1,318-kilometer-long journey between Beijing and Shanghai in about three hours.The two Wi-Fi equipped trains are designated G123 and G124, and service is expected to be expanded to four trains come July 1st.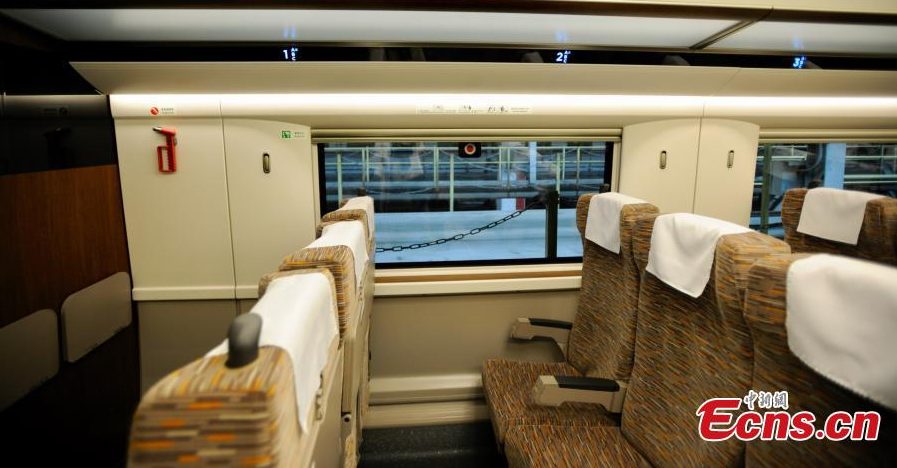 According to Shanghai Daily, The train was designed and manufactured by China.The train includes a sophisticated monitoring system that constantly checks its performance and automatically slows the train in case of emergencies or abnormal conditions.Thanks to a remote data-transmission system, a control center will be able to monitor the train in real time.
Lu Dongfu, general manager of China Railway Corp., operator of the new train, said "Fuxing" (rejuvenation), underpins the unique role that high-speed railway has played in China's economic and social development.Previous bullet trains featured the characters "Hexiehao" (harmony), on the exterior of each train.
These trains are designed to last for 30 years, 10 more years than the older 'Hexiehao' trains. They are also much more energy efficient, consuming 17 percent less energy (per 100km at speeds of less than 350km/h) compared to older trains.With bullet train on board, China will in no time gear towards a major economic boost.
Although the bullet train is not planned for commercial use, China is currently testing a ultra-fast bullet train that can achieve speeds of 600 kilometers per hour (or approximately 373 mph). They are the first high-speed bullet trains wholly designed and developed by China, and could be better adapted to China's environment and rail transport patterns.