Just recently PWC embarked on an astonishing  survey, in the survey it came out that Middle Eastern consumers are notably willing to replace humans doctors with Artificial Intelligence (AI) and robots in order to fulfill their healthcare needs.The quest for robotic doctors are recently growing rapidly.Remember Da vinci Surgery robots are already in the picture.
PWC have this to say regarding the survey; this is the PDF link of the document regarding the whole survey. 
Why AI and robotics will define New Health
Will artificial intelligence and robotics in medicine replace the human clinician? Not yet, but healthcare is changing and these advanced technologies have the potential to make care better, faster and more accessible for all. We surveyed over 11,000 people from 12 countries across Europe, the Middle East and Africa to see if the public is willing to embrace that change.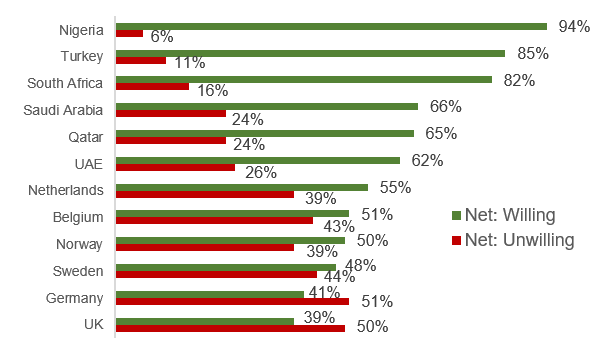 The outcome showed that most of the people who showed interest in the robotic healthcare are mostly in the developing countries. The survey showed that consumers in developed countries who enjoy more reliable and complicated healthcare systems showed less willingness in opting for artificial intelligence as a source of serving their medical needs.
The question is, Why are many in the developing countries seeking for robotic healthcare?
We are entering a new era of health – New Health
Modern health systems can treat and cure more diseases than ever before. New technology is bringing innovation to old treatments. Yet significant quality, access and cost issues remain and our health systems are becoming increasingly unsustainable.  The emergence and increasing use of artificial intelligence (AI) and robotics will have a significant impact on healthcare systems around the world.




How will AI and robotics define New Health?
What amazes me is why the Respondents from the United Kingdom, Western and Northern Europe who are willing to resort to artificial intelligence came last in the list of respondents by country, with only 39% of British consumers willing to resort to medical artificial intelligence and 41% of respondents in Germany as you can see from the chat. Why is it so?