Germany 's renewable energy sector is among the most innovative and successful worldwide.Net-generation from renewable energy sources in the German electricity sector has increased from 6.3% in 2000 to about 34% in 2016.Germans have set their sights on powering their country from renewable sources exclusively by 2050.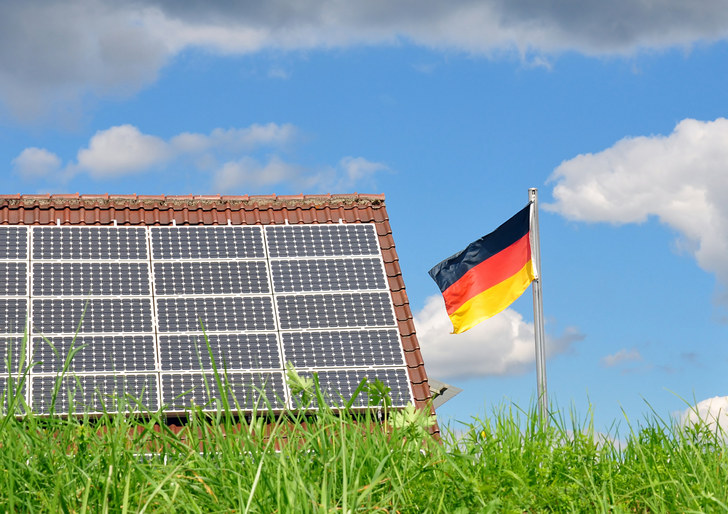 Over the last 50 years, German energy policy has ranged from strong enthusiasm for both coal and nuclear energy to deep skepticism. The most dramatic changes with respect to energy policies have occurred as a response to nuclear accidents, yet the accidental and unintended effects of coal policies are also important in influencing the trajectory.
On Sunday 15 May 2016 at 14:00 hours, renewable supplied nearly all of domestic electricity demand.While peak-generation from combined wind and solar reached a previous all-time high of 74% in April 2014,wind power saw its best day ever on December 12, 2014, generating 562 GWh.Germany has been called "the world's first major renewable energy economy".
On 8th of July 2016 Germany adopted amendment to the Renewable Energy Act (further: EEG 2017). The amendment will enter into force on 1st of January 2017.The reform introduces public tender procedures for onshore wind, offshore wind, solar and biomass projects in country's efforts to shift from FIT support renewable energy deployment to market orientated price finding mechanism.




Renewable technology
Tender volumes
Tender technology specific rules
Onshore wind

2.8 GW per year until 2019;
2.9 GW per year from 2020;

First tender May 2017;
3-4 tenders per year;
Price ceiling EUR cents 7/kWh;
Required permits must be submitted 3 weeks before the start of the auction round;

Offshore wind

Total of 15 GW by 2030;
3.1 GW in period 2015-2025;
4.2 GW in period 2026-2030;

First two tenders 2017/18 for existing projects;
Tenders for new projects from 2021 to be commissioned by 2026;
Price ceiling for tenders 2017/18 EUR cents 12/kWh;
Price ceiling for later tenders determined by the lowest bid price;

Solar PV

0.6 GW per year from 2017;

First tender February 2017;
3 tenders per year;
Price ceiling EUR cents 8.91/kWh;
Open space units up to 10 MW; other types of projects up to 750 kW;

Biomass

150 Mw in 2017-19;
200 MW in 2020-22;

First tender September 2017;
1 tender per year;
Price ceiling EUR cents 14.88/kWh with 1% of degression per annum starting as of 2018;
Projects under 150 kW capacity not allowed for tender participation;
Required permits must be submitted 3 weeks before the start of the auction round;




With that, projects will no longer be eligible for statuary feed-in tariff remuneration but will have to bid for it in public auction organized and monitored by the Federal Network Agency (Bundesnetzagentur). Successful projects will receive contracts for duration of 20 years for sell of the produced electricity at the price that they bid during the auction process.
Germany aims to increase its renewable share to 40%-45% by 2025, to 55%-60% by 2035 and to reach a minimum of 80% by 2050, as set in EEG 2014. EEG 2017 replicates those targets. The amendment stipulates capacity corridors for technology deployment in order to control capacity volumes commissioned each year, similarly as EEG 2014 did.




According to official figures, some 370,000 people were employed in the renewable energy sector in 2010, especially in small and medium-sized companies. This is an increase of around 8% compared to 2009 (around 339,500 jobs), and well over twice the number of jobs in 2004 (160,500). About two-thirds of these jobs are attributed to the Renewable Energy Sources Act.