FBI,DEA,Dutch National Police and Europol have taken down AlphaBay & Hansa DarkSites.The coordinated law enforcement action in Europe and the US ranks as one of the most sophisticated takedown operations ever seen in the fight against criminal activities online.
The Federal Bureau of Investigation (FBI), the US Drug Enforcement Agency (DEA) and the Dutch National Police, with the support of Europol, have shut down the infrastructure of an underground criminal economy responsible for the trading of over 350 000 illicit commodities including drugs, firearms and cybercrime malware.
The AlphaBay and Hansa darksites had been associated with the trade in illicit items such as drugs, weapons, malware and stolen data.AlphaBay operated on the encrypted Tor network and carried more than 250,000 listings for drugs, including heroin and powerful synthetic opioids, officials said.
This is AlphaBay and Hansa
AlphaBay was the largest criminal marketplace on the Dark Web, utilising a hidden service on the Tor network to effectively mask user identities and server locations. Prior to its takedown, AlphaBay reached over 200 000 users and 40 000 vendors.A conservative estimation of USD 1 billion was transacted in the market since its creation in 2014. Transactions were paid in Bitcoin and other cryptocurrencies.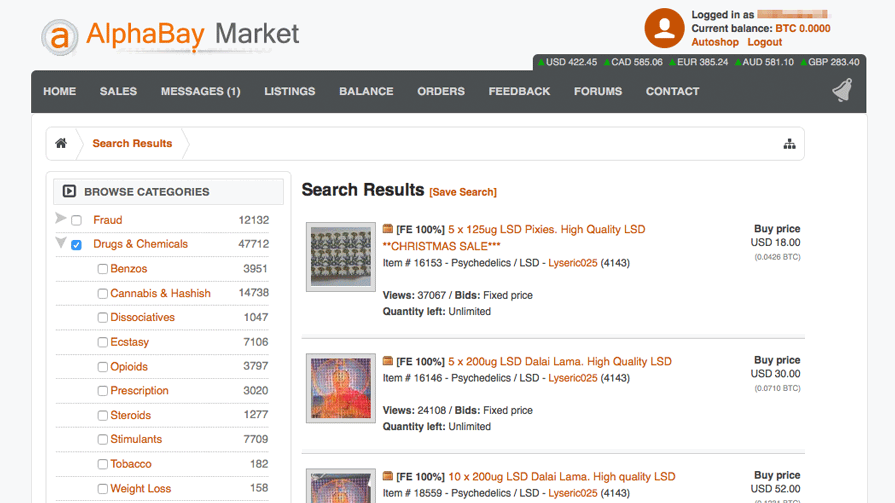 There were over 250 000 listings for illegal drugs and toxic chemicals on AlphaBay, and over 100 000 listings for stolen and fraudulent identification documents and access devices, counterfeit goods, malware and other computer hacking tools, firearms, and fraudulent services.

Hansa was the third largest criminal marketplace on the Dark Web, trading similarly high volumes in illicit drugs and other commodities. The two markets were created to facilitate the expansion of a major underground criminal economy, which affected the lives of thousands of people around the world and was expressly designed to frustrate the ability of law enforcement to bring offenders to justice.
According to BBC,Hansa was seized and covertly monitored for a month before being deactivated.The agency said it believed the bust would lead to hundreds of new investigations in Europe."The capability of drug traffickers and other serious criminals around the world has taken a serious hit today," said Europol's executive director Rob Wainwright.
It was a "landmark" operation, according to US Federal Bureau of Investigation (FBI) acting director Andrew McCabe.AlphaBay has been offline since early July, fuelling suspicions among users that a law enforcement crackdown had taken place.
"We know of several Americans who were killed by drugs on AlphaBay," said US Attorney General Jeff Sessions."One victim was just 18 years old when in February she overdosed on a powerful synthetic opioid which she had bought on AlphaBay."
He also said a 13-year-old boy died after overdosing on a synthetic opioid bought by a high school classmate via the site.Mr Sessions cautioned criminals from thinking that they could evade prosecution by using the dark web: "You cannot hide," he said, "We will find you."
How Serious was the Investigations?
Europol has been supporting the investigation of criminal marketplaces on the Dark Web for a number of years. With the help of Bitdefender, an internet security company advising Europol's European Cybercrime Centre (EC3), Europol provided Dutch authorities with an investigation lead into Hansa in 2016.
Subsequent enquiries located the Hansa market infrastructure in the Netherlands, with follow-up investigations by the Dutch police leading to the arrest of its two administrators in Germany and the seizure of servers in the Netherlands, Germany and Lithuania.
Europol and partner agencies in those countries supported the Dutch National Police to take over the Hansa marketplace on 20 June 2017 under Dutch judicial authorisation, facilitating the covert monitoring of criminal activities on the platform until it was shut down today, 20 July 2017.
In the past few weeks, the Dutch Police collected valuable information on high value targets and delivery addresses for a large number of orders. Some 10 000 foreign addresses of Hansa market buyers were passed on to Europol.
In the meantime, an FBI and DEA-led operation, called Bayonet, was able to identify the creator and administrator of AlphaBay, a Canadian citizen living a luxurious life in Thailand. On 5 July 2017, the main suspect was arrested in Thailand and the site taken down. Millions of dollars worth of cryptocurrencies were frozen and seized. Servers were also seized in Canada and the Netherlands.
This probably means that all those who were engaging in criminal activities on this hidden platforms will soon get posted by the FBI and other international security organizations.This take down is a good news for the whole world and we say Bravo to the team behind this take-down.