The GATEway (Greenwich Automated Transport Environment) project is an £8million research project to develop and investigate the use, perception and acceptance of fully automated vehicles in the UK. Using a combination of sensors, cameras, lasers and software from Oxbotica, the vehicles safely navigate their way around Greenwich.
GATEway (Greenwich Automated Transport Environment) is an £8m research project, led by TRL and jointly funded by Innovate UK and industry, to understand and overcome the technical, legal and societal challenges of implementing automated vehicles in an urban environment.
Taking place in Greenwich, one of the UK's leading smart cities, the project will trial and validate a series of different use cases for automated vehicles, including driverless shuttles and automated urban deliveries.
Around 100 people will travel in a prototype shuttle on a two-mile route near London's O2 Arena over the next three weeks.It is hoped the project could make it easier for smaller neighbourhoods in Greenwich to access existing public transport hubs.
The vehicle, which will operate with a trained driver as a fail-safe in the first instance, will operate along a two-mile riverside path near London's O2 Arena, transporting 100 people over the next couple of week. While there might be some scepticism over the safety of driverless vehicles in certain areas, it certainly doesn't show here. More than 5000 people applied to be part of the trial.
---
The vehicle itself will be kitted out with five cameras and three lasers to help the computer see up to 100 metres along the path, with a maximum speed of 10 mph. Should an obstruction be detected, the vehicle will decelerate slowly, though emergency brakes are also a possibility should there be a requirement. The path itself will also be populated by pedestrians and cyclists during the trial.
Dr Graeme Smith, chief executive of Oxbotica, which is developing the electric vehicles, said: "This needs to be like any other form of transportation. It shouldn't be a white-knuckle ride for passengers. We know we've got the software right when the journeys are unremarkable.
"The vehicle will see up to 100 metres ahead and if it detects something that it thinks is in its path it will come to a nice graceful halt. If it needs to emergency brake if somebody steps right in front, it can do that as well.
"It's been designed to be safe and fail-safe specifically in a pedestrianised environment. We look out for pedestrians, cyclists, cats and dogs."Officials behind the £8 million GATEway Project believe the first paying passengers could use the system by 2019 on a trial basis, and it could eventually be rolled out to similar locations across the country.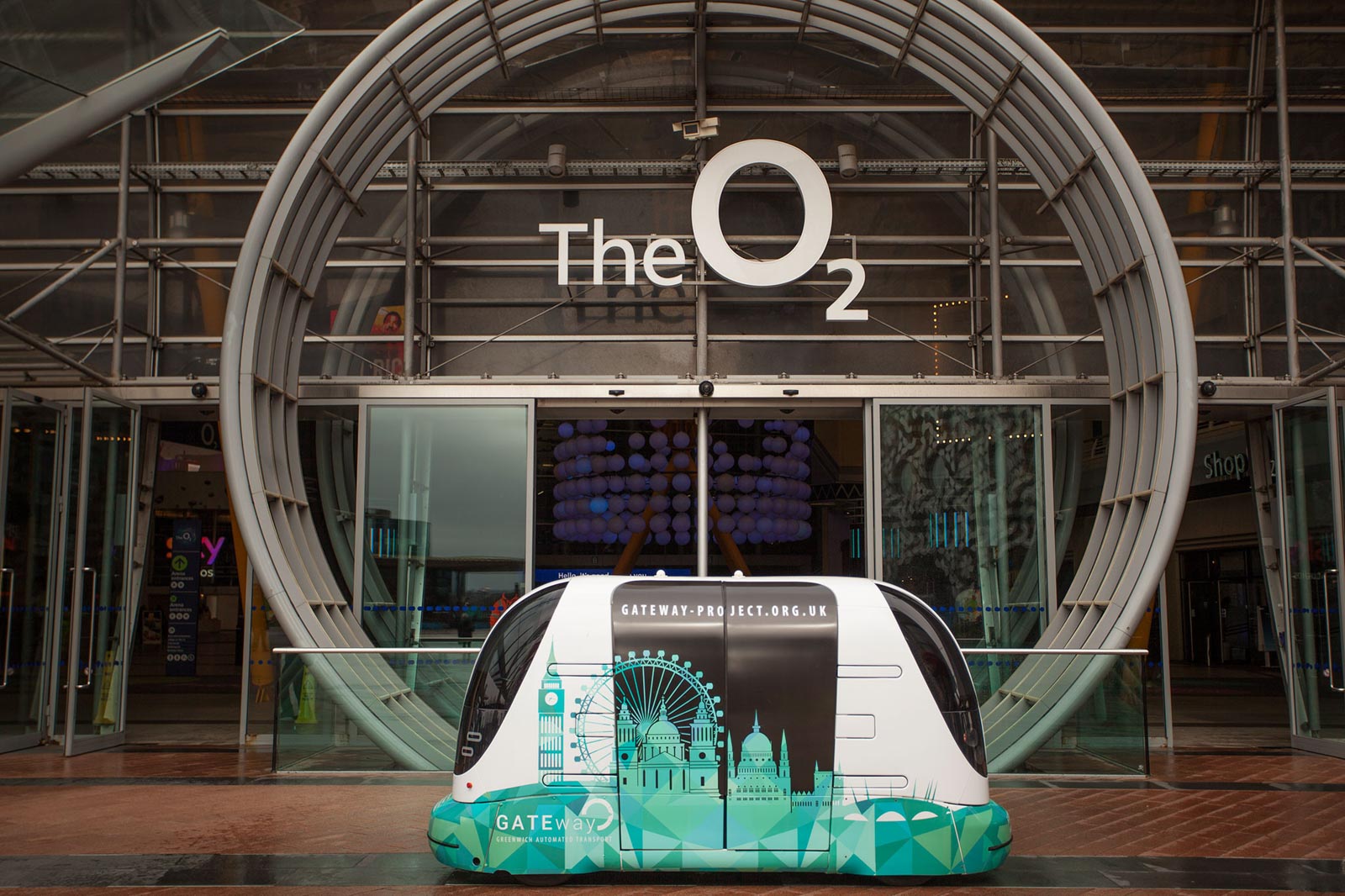 Simon Tong, a research scientist at TRL, which is leading the programme, said: "Driverless vehicles could be part of smart cities.
"Existing transport hubs that are well used like the Tube, the Thames Clippers and the Emirates Air Line cable car that we have here, they're all situated at one end of the Greenwich peninsular but there's lots of businesses and residences that are much further away than that.
"This is a great way to connect all of those people with those existing transport hubs."Self-driving cars were tested by a major manufacturer on public roads in the UK for the first time last month.
Nissan clocked up more than 300 miles using prototypes of its Leaf model with enhanced autonomous driver technology on busy routes in east London.
The purpose of the trial is not only to collect data for the development of the vehicle, but also to catalogue the reactions of the general public. This data, while more difficult to analyse and interpret, would be critical in rolling out any further initiatives.
Executives behind the initiative, known as the GATEway Project, believe paying customers could use the shuttle from 2019, and it could be rolled out throughout the rest of the UK not too long afterwards.
Results will help both industry and policymakers understand the implications of driverless vehicles and deliver a safe and validated test environment in the UK, driving job creation and investment in a rapidly emerging technology area.
GATEway is one of several projects taking place in the UK Smart Mobility Lab at Greenwich – an open, real world, test environment for connected and automated vehicles. See more at: www.gateway-project.org.uk