FORMOSAT-5 is the first ever entirely domestically developed satellite operated by Taiwan National Space Organization (NSPO). The satellite was packaged and shipped to U.S. Saturday for its launch.The satellite will explore the space by the help o SpaceX's Falcon 9 rocket.The launch will take place on August 25 (Taiwan Time) in California.Many countries are aggressively joining the space game changers.
FORMOSAT-5 is a planned Earth observation satellite operated by the National Space Organization (NSPO) of the Republic of China (Taiwan). It is to be NSPO's first indigenous developed remote sensing satellite.The Remote Sensing Instrument (RSI) is the primary instrument aboard the spacecraft.
This is NSPO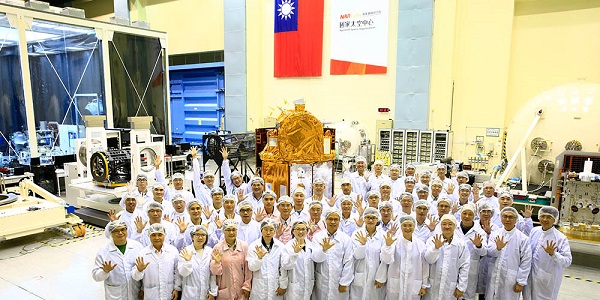 The National Space Organization (NSPO; formerly known as the National Space Program Office) is the national civilian space agency of Taiwan under the auspices of the ROC (Taiwan) Ministry of Science and Technology. NSPO is involved in the development of space technologies and related research.
It is composed of Telescope and Electrical Unit (EU). The Telescope consists of Optics, Structure Module (SM) and CMOS typed Focal Plane Assembly (FPA). The mission also incorporates a science payload, the Advanced Ionospheric Probe (AIP), for studies of ionospheric plasma physics.
According to TaiwanNews, "Premier Lin Chuan (林全) visited the NSPO in Hsinchu Saturday to oversee the final shipment preparation of the satellite.
"We hope to push for the cooperation or expansion of the satellite-related industries and create opportunities for collaborations between Taiwan and other countries on manufacturing satellites," said Lin.
Uses of the Satellite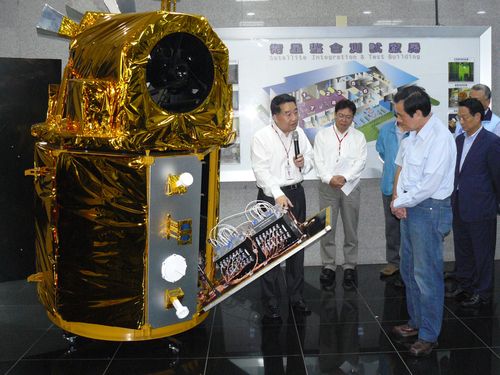 The high-resolution images taken by FORMOSAT-5 can contribute to state governance, national security, technological diplomacy, academic research, environmental monitoring, disaster prevention and relief, and international humanitarian relief, said Chen Liang-gee (陳良基), head of the Ministry of Science and Technology.
"This [the satellite] is the nation's pride," said Chen.In collaboration with more than 50 industries and research institutes, the NSPO has researched and developed the satellite since 2009 with a budget of over NT$5 billion dollars (US$180 million), said Chen.
Chang Guey-shin (張桂祥), director general of the NSPO, said that the satellite is due to arrive in the U.S. on July 20. It will undergo a final test before being integrated into Space X's Falcon 9 rocket on August 16 at Vandenberg Air Force Base (范登堡空軍基地) in California.