Chancellor Angela Merkel set the goal in 2010 to deploy one million electric vehicles on German roads by 2020.The adoption of plug-in electric vehicles in the Germany is actively supported by the German Federal Government, Under its National Platform for Electric Mobility,
As of December 2016, a total of 74,754 plug-in electric cars have been registered in Germany since 2010. The country is the largest passenger car market in Europe, however ranks as the fifth largest plug-in market in Europe as of December 2016.About 80% of the plug-in electric cars registered in the country through September 2016 were registered since January 2014. As of November 2014, the country had 4,800 public charging stations.
But it seems the country's goal couldn't be reached, Angela Merkel said that Germany will likely miss the government's target of bringingone million electric cars onto the roads by the end of the decade. "As it looks at the moment, we will not achieve this goal," Merkel told fellow lawmakers of her centre-right CDU/CSU bloc.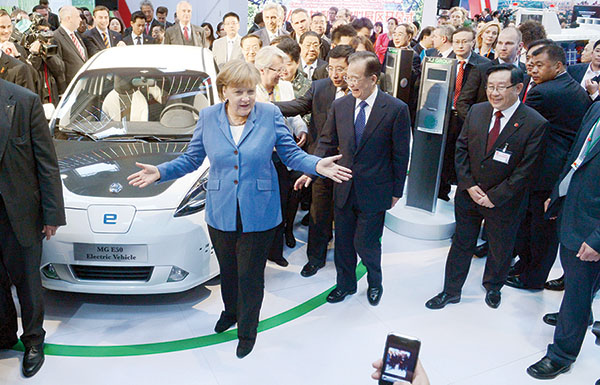 She added, however, that a mass market breakthrough of demand for battery-powered cars could come very abruptly, as was the case with other innovations such as the introduction of the smartphone.Experts say German consumers remain reluctant to buy EVs because of relatively high prices, limited driving range and restrictions due to the low number of charging stations.
Although the German government has committed to investing €300 million into increasing the network of charging stations, right now it's patchy and confusing, especially outside of the main cities. "People who buy an e-car today for the most part have their own charging facility at home, and are not so reliant on public charging structure, which is underdeveloped." The public charging stations are a mess of different ways to pay, from cash, to cards to pre-pay options—adding to drivers' anxiety about being stranded mid-journey.
Price is still a huge deterrent. Electricity is cheap right now but electric cars are much more expensive than their diesel or petrol counterparts. And the government incentive of a €4,000 rebate when you buy an electric car has been a flop. It's simply way too low to make a difference. For example, an electric VW Golf costs upwards of €35,000 ($37,000) while a standard Golf costs between €17,000 and €27,000.
In 2016, there were some 7,400 charging points in Europe's most populous country, according to electricity industry group BDEW.