Courier company Hermes  in the UK has announced a trial of self-driving robots in the London borough of Southwark.
Hermes has announced a new trial for self-driving delivery robots in the UK.Hermes is now one of the leading online delivery solutions for anyone wanting to send a parcel. Hermes' two-day service via its nationwide network of myHermes ParcelShops and three-day delivery service collected from the doorstep, provide an effective and affordable alternative to other UK carriers.
The six-wheeled robots from Starship Technologies will be used to collect parcels rather than deliver them.The project follows a pilot scheme in Germany in which the robots delivered parcels to several suburbs in the city of Hamburg.




"At the moment, in big cities, it can be hard to walk down the street because of the number of people," commented Prof Andy Miah, from the University of Salford's School of Environment and Life Sciences."In time, it could be the robots we are trying to dodge. I'm not sure that would be a better world."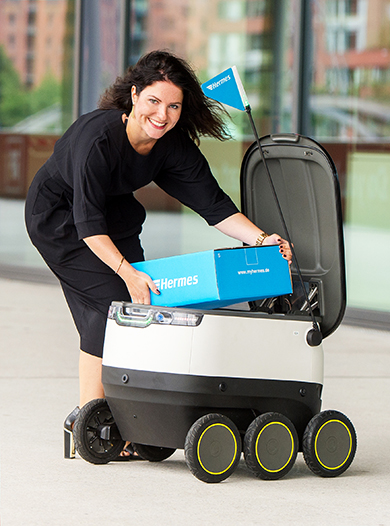 The courier firm will deploy a number of Starship Technologies' six-wheeled robots on streets in the London Borough of Southwark.The autonomous machines, which have a top speed of 4mph, are 55cm tall and 70cm long, and weigh 18kg.They can carry up to 10kg at a time, with packages stored inside a secure compartment that can be unlocked with a code sent to the customer's phone.
Many are asking Hermes why they are not using drones in their delivery service, since Amazon deploys drones for their delivery service, this is what they have to say "In the sky, we still have to figure out what a drone highway would look like and figure out some sophisticated collision-avoidance technology," noted Prof Miah.
By contrast, Starship's ground-based robots will be kept under close supervision by human operators.Each supervisor will watch over three robots via their on-board cameras and take control of road-crossings and other challenging situations.In time, however, Starship says one operator should be able to control up to 100 robots, which would make its operation more cost effective.




The machines will be tasked with completing 30-minute collection jobs to see how they cope with challenging targets.During the trial, the robots will operate within two miles of Hermes' control centres, and human operators will supervise three robots each.They'll be able to do this by monitoring the robots' on-board cameras and assuming control in challenging situations, such as road crossings.
Lets see what will be the outcome of this technological move by Hermes.