Israel beefed up its missile defence capabilities on Wednesday with the delivery of a highly Advance War Tech Missile defence system developed in part by Boeing, The main operations of this high-tech defence system is to protect the countries atmosphere against enemy attacks.A 2008 amendment to the Nationality Law of 1952 of Israel 9 countries are considered an enemy of Israel: Afghanistan, Iran, Pakistan, Iraq, Lebanon, Libya, Sudan, Somalia, Syria, and Yemen as well as the Hamas.
The Missile defence system was expected to protect from ballistic missiles capable of flying thousands of miles. Iran has tested such missiles several times in the past, defying international sanctions.The Arrow-3 missile defence system will form the uppermost layer of Israel's multi-layered defence system, Israel Defence Forces officials have said.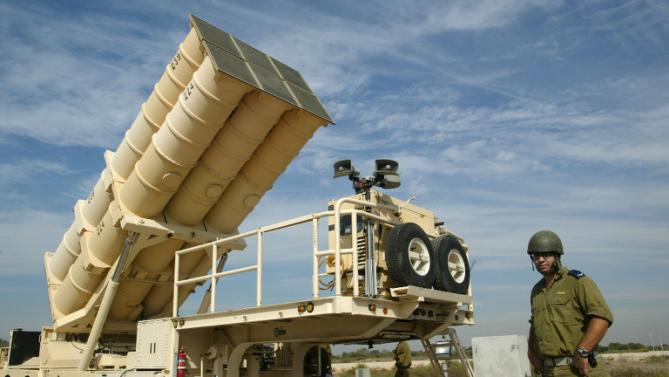 Brig. Gen. Tzvika Haimovich, the head of IDF Aerial Defense Command, said that together the systems would give Israel a protective umbrella, countering threats posed by Iran, Hezbollah and terror groups in Gaza firing short-range missiles.Israel Aerospace Industries worked together with Boeing to develop the Arrow-3. The project was co-managed by the U.S. Missile Defense Agency and the Israeli Missile Defense Organization, a division of the Israeli Ministry of Defense. Israeli officials said IMDO would continue to work with the U.S. in developing additional capabilities for the system.
The delivery took place about a year after the last successful intercept that proved the system's ability to detect, track and destroy ballistic missile targets in space. The Arrow-3 test program began in 2013. Its final test flight was in December 2015.
History of the Missile Defence System
Iron Dome (is a mobile all-weather air defence system developed by Rafael Advanced Defence Systems and Israel Aircraft Industries. The system is designed to intercept and destroy short-range rockets and artillery shells fired from distances of 4 kilometres (2.5 mi) to 70 kilometres (43 mi) away and whose trajectory would take them to a populated area. Israel hopes to increase the range of Iron Dome's interceptions, from the current maximum of 70 kilometres (43 mi) to 250 kilometres (160 mi) and make it more versatile so that it could intercept rockets coming from two directions simultaneously.
Iron Dome was declared operational and initially deployed on 27 March 2011 near Beersheba. On 7 April 2011, the system successfully intercepted a Grad rocket launched from Gaza for the first time. On 10 March 2012, The Jerusalem Post reported that the system shot down 90% of rockets launched from Gaza that would have landed in populated areas. By November 2012, official statements indicated that it had intercepted 400+ rockets. By late October 2014, the Iron Dome systems had intercepted over 1,200 rockets.
Iron Dome is part of a future multi-tiered missile defence system that Israel is developing, which will also include Arrow 2, Arrow 3, Iron Beam and David's Sling as early as 2018.
The Battle Continues
Today USA also launched Atlas V SBIRS Geo Army (SBIRS) Missile Detection Satellite similar defence system, I personally believe that there is some source of linkage between USA and Israel. Now all the world's great nations are upgrading their strength through more advanced technologies.