Hurray!!, Kentucky Fried Chicken (KFC) is celebrating 30 years of business in China by releasing its own smartphone which is Finger Licking Good.The fast food giant joined forces with an electronics maker Huawei to release a limited edition of their Android smartphone.
Across the world KFC is the king of the fried chicken market, Colonel Sanders has set his sights on smartphones, with Kentucky Fried Chicken's brand new Enjoy 7 Plus Android device.The brand KFC is all over the world and selling their brand of smartphones will definitely be "Finger Licking Good". Smartphones Brands like Apple,Samsung and the rest should really watch out.
The Brand KFC
KFC was founded by Colonel Harland Sanders, an entrepreneur who began selling fried chicken from his roadside restaurant in Corbin, Kentucky during the Great Depression. Sanders identified the potential of the restaurant franchising concept, and the first "Kentucky Fried Chicken" franchise opened in Utah in 1952.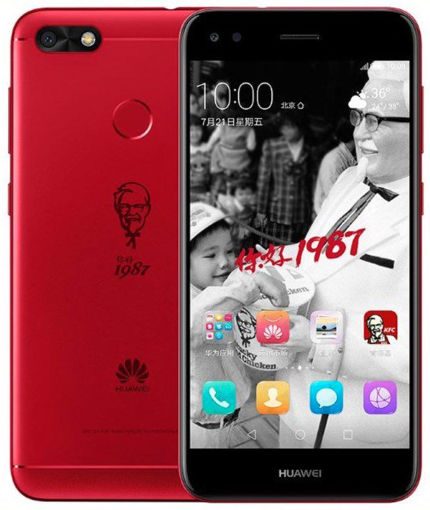 Kentucky Fried Chicken, more commonly known by its initials KFC, is an American fast food restaurant chain that specializes in fried chicken. Headquartered in Louisville, Kentucky, it is the world's second-largest restaurant chain (as measured by sales) after McDonald's, with almost 20,000 locations globally in 123 countries and territories as of December 2015.
Phone Specifications
According to the Guardian, The new 5.5in smartphone, made in partnership with Huawei, has a Snapdragon 425 processor, 3GB of RAM, 32GB of storage, a microSD card slot and comes with Android 7.0.
There's even a fingerprint scanner on the back right above the laser engraved image of the Colonel's head, just in case the red colour, KFC app and Sanders-based wallpaper weren't enough.
There's KFC's music app on the phone too, which lets you share music with any number of the 4,000 KFC restaurants spread through China, plus it comes with 100,000 of the Colonel's virtual currency "K dollars".
KFC is only making 5,000 of the lucky-coloured smartphones in aid of the company's 30th anniversary in China. Each will cost 1,099 yuan (£125) from retailer Tmall from 13 July. Expect them to become an instant collectors item.For now just stay tuned and wait till we notify on when the next release hit your street.