With over 29 million people living with Diabetes there are no shortage of diabetes accessories and diabetes apps that promise a simpler routine and better monitoring.Diabetes mellitus (DM), commonly referred to as diabetes, is a group of metabolic diseases in which there are high blood sugar levels over a prolonged period. Symptoms of high blood sugar include frequent urination, increased thirst, and increased hunger.
If left untreated, diabetes can cause many complications. Acute complications can include diabetic ketoacidosis, nonketotic hyperosmolar coma, or death.Diabetes was the seventh leading cause of death in the United States in 2010 based on the 69,071 death certificates in which diabetes was listed as the underlying cause of death. In 2010, diabetes was mentioned as a cause of death in a total of 234,051 certificates.
Diabetes may be underreported as a cause of death. Studies have found that only about 35% to 40% of people with diabetes who died had diabetes listed anywhere on the death certificate and about 10% to 15% had it listed as the underlying cause of death.
In the video below Scott Hanselman shares how he uses a diabetes pump and how he uses a continuous glucose meter to constantly monitor his blood sugar level. While showing this Hanselman uses an airplane analogy to explain blood sugar monitoring.

Serious long-term complications include heart disease, stroke, chronic kidney failure, foot ulcers, and damage to the eyes.Diabetes is due to either the pancreas not producing enough insulin or the cells of the body not responding properly to the insulin produced.In todays era of technology, you dont necessary need s to see the doctor before you can receive your health updates,this have pushed me to deliver to the world my top 5 diabetes smartphones app that can help people suffering from the deadly diabetes.
---
Health Tech is moving fast in all areas. As established brand names emerge, partnering with known entities for other components lets companies focus on what they do best, which theoretically will speed the overall rate of advance.With the right combination of technology, knowledge and motivation people with diabetes can do anything. mySugr makes diabetes suck less – during crazy adventures or even just a normal workday.The mySugr smart diabetes companion proves the exception to software always taking a back seat.
Mobile healthcare services have long been seen as a field with potential. The use of digital health apps continues to grow at a rapid rate, but their scientific impact on a patient's therapy has remained largely invalidated. We feel obligated to invest in scientific research to better understand the effect mySugr has on our users' therapy," said Frank Westermann, mySugr's Chief Executive Officer, who has lived with type 1 diabetes for 20 years.
The company's free apps include educational materials, quizzes, and fun facts as well as tracking and analyzing blood glucose readings. The readings can be input manually or imported directly from Abbott's FreeStyle Libre, Roche's Accu-Check, or Medtronic CGM. All three of these big name companies have partnered with mySugr for food and glucose level logging and for mySugar Coaching, which is included free with mySugr Pro . The Pro version, registered with the FDA as a Class 1 device, costs $2.99 a month and has additional reporting, reminders, basal and bolus calculation, device support, and multi-device syncing.
---
Losing weight isn't easy – we know. But with a membership to MyFitnessPal, you'll get the tools you need to successfully take weight off – and keep it off. And best of all, you can sign up for free, no strings attached. So put away your credit card – you'll never have to pay a cent.

Study after study has confirmed the benefits of keeping track of the food you eat and the activity you do. It's simple – the more consistently you track your food intake, the more likely you are to lose weight. That's why every successful weight management program suggests that you keep a food diary and/or an activity log. But recording everything you eat without the right tools can be tedious at best, or simply impossible at worst.
MyFitnessPal, we focus on making sure you can log your meals as quickly and easily as possible. Because the easier we make it for you, the more likely you are to stay on track, and the more likely you are to succeed in your weight loss goals.
---
The Glooko app allows you to download glucose, insulin and carb information right to your iPhone or Android. This works with a wide variety of devices, but you do need a $59.99 annual subscription and that includes a syncing device for this to work. You may be eligible for a free or discounted subscription, so ask at your DR or ask your insurance company.

This is how it works?
Access data from 50+ meters, insulin pumps & CGMs, synced from a patient's iPhone or Android device
Analyze patient carb, food, insulin and medication daily intake next to BG levels
Monitor and collaborate with patients to optimize their care plans
---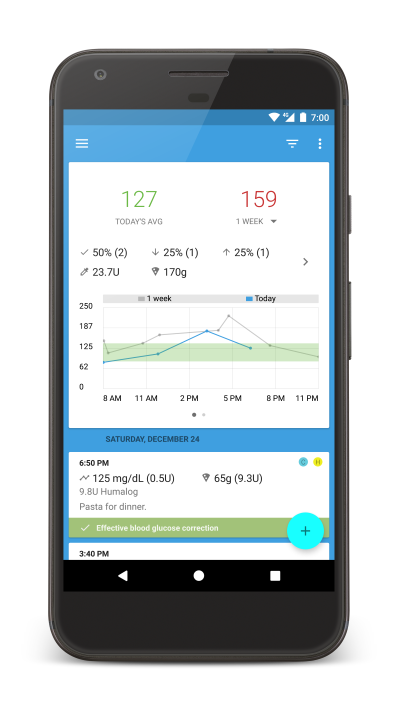 BG Monitor is an incredibly easy to use diabetes management app. It makes things really easy by calculating insulin and carbohydrates for you. The clean user interface and powerful filters system allows you to find exactly what you're looking for. Statistics help you keep track of how you're doing.
Interface: Slick and elegant, BG Monitor is a breeze to navigate.
Favorite thing: There's a lot to love about this app, but we particularly like being able to create a photo log of your meals. It's great for when you're out with friends and don't want to take the time to record your food.
Usability: Track everything, calculate how much insulin you need, set reminders, and create spreadsheets and graphs of your data. You can also organize all of your entries with tags.
---
Counting the amount of carbs in the foods you eat is super important to staying healthy and active. These games will help you learn how to do it! Not forgetting the kids, I mean our future generation. Carb Counting with Lenny is a great diabetes app for kids since it helps teach them the carb values for many basic foods and includes games that allow kids to learn more about carb counts and carb knowledge.

This isn't a full featured carb counter app for adults, it's aimed at kids who are trying to learn the basics about Diabetes so they can make smart choices about carbs on their own.In addition to carb games and showing how many carbs an individual food item has, there is a build-a-meal tool that covers some basic foods kids will eat.