(ThinkMarketing)– Egypt's Ministry of Communication and Information Technology has unveiled today the specifications of the first Egypt-made, Nile X, smartphone at Cairo ICT 2017.
Manufactured by the Ministry of Communication-affiliated SICO Technology, the smart phone was made with 400 million Egyptian pounds in investment in the company's factory in Assiut.Having five production lines spread over 4,520 square meters, the factory has a capacity of producing 1.8 million devices per year.
The telephone was presented by the Egyptian Minister of Communications, Engineer Yasser Al-Qadi, to President Abdul Fattah Al-Sisi, the first of four lines of production.
NILE X Specifications
The First Egyptian Made Cell Phone is an Octa Core CPU Dual Camera 4GB RAM, 64 GB storage, 5.7 HD display, Android 7.0 Nougat.
The new smartphone name is Nile X to be launched with 4G technology, fast charging feature USB Type-C, 13 mega pixel dual camera and fingerprint sensor.
Expected to be priced at an average starts from LE 2,000 up to LE4200, the foreign component in the device is provided in partnership with China.
NILE X Ambition and Future Plans
SICO Technology aims to capture 5 percent of the Egypt's mobile market during the first year of production. In addition, SICO mobile phones are now considered to be the first local brand in the industry as the percentage of 58% local component.
Moreover, The company's technical centers will exist in Cairo, Giza, Alexandria, Assiut, Sharkia and Luxor governorates.
Egypt's Nile X smartphone, produced by SICO, will be available on the market on December 15, 2017.
First made in Egypt smartphone was unveiled at Cairo ICT
Over the past 20 years, Cairo ICT hosted over 5,000 exhibitors from 44 countries. Cairo ICT brought together key market players in the IT and communication industries to present their latest innovative products and new technologies.
The first ever made in Egypt cellphone was presented on Sunday at the 21st session of Cairo ICT – a regional technological trade fair – in New Cairo, with President Abdel Fattah al-Sisi present for unveiling.
Under the brand name of "Nile X", the 4G smart phone's price range generally costs less than imported phones of the same capacity, varying between LE 1000 and LE 4200. Sico's feature phones will be sold at LE 200.
The phone, which will start retailing from December 15, has some pretty exciting specifications, which include a 13 megapixel dual camera, fingerprint sensor, 4GB RAM, 64 GB storage, 5.7 HD display, Android 7.0 Nougat, fast-charging feature, and comes standard with lighting-quick 4G technology.
45 percent of the components of the smartphone will be manufactured in a Sico technological park factory in Assiut, with the park's investments currently valued at LE300 million.
Who is SICO Technology?
SICO started back in 1951 by building its own bottling plant in Cairo. SICO started its very own Egyptian brand for soft-drinks offering a verity of flavours includes; Orange, Lemon and Mandarine.
Today, SICO bottling is the bottling arm for Coca-Cola in Egypt.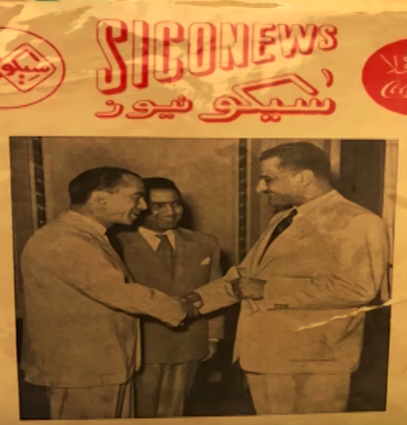 SICO Technology has been working in the electronics sector since 2003, and has been commissioning Chinese factories to produce its products, importing them under SICO's brand for four years.
SICO offers a total 360° technological solution to retail and business clients. With the company's increase in production rate and enlarging market, building a factory in Egypt has become a feasible project and it is currently being built in cooperation with the Ministry of Communication and Information Technology, with funding from Chinese investors.
SICO is currently building a new 4,000 sqm state of the art mass production facility in Assuit in partnership and full support of the Egyptian government with a huge production capacity started at 1.7 MM in the first year and reaching 2.7MM by the third year.
SICO Technology is the first Egypt based technology and handset manufacturer of reliable and affordable 4G smartphones.The first phones are to be 45% locally produced, with the aim of reaching 70-72% within the first year and to be increased on the long run.
The Nile X smartphone "Sico-manufactured" will be available in the market by 15 December 2017.
Source:: ThinkMarketing