Microsoft makes a lot of changes in Windows 10 to improve user experience.Yesterday Microsoft release a blog post regarding the new updates they are releasing in windows 10.According to Microsoft they are excited to be releasing our #TacoHat Thursday build – Windows 10 Insider Preview Build 16215 for PC – to Windows Insiders in the Fast ring!
They are also releasing Windows 10 Mobile Insider Preview Build 15222 to Insiders in the Fast ring.Their goal is to do a Windows Insider webcast on our Mixer channel every month. This month's webcast will take place next Wednesday June 14th from 10:30am – 12:00pm (5:30pm- 7:00pm UTC). Be sure to tune in! Now let me walk you through the features they are bringing on board in the Build 16215 For PC.
New Updates
Start & Action Center bring elements of Fluent Design
This build introduces new UI for Start and Action Center that includes elements of our new Fluent Design System which was announced at Build 2017.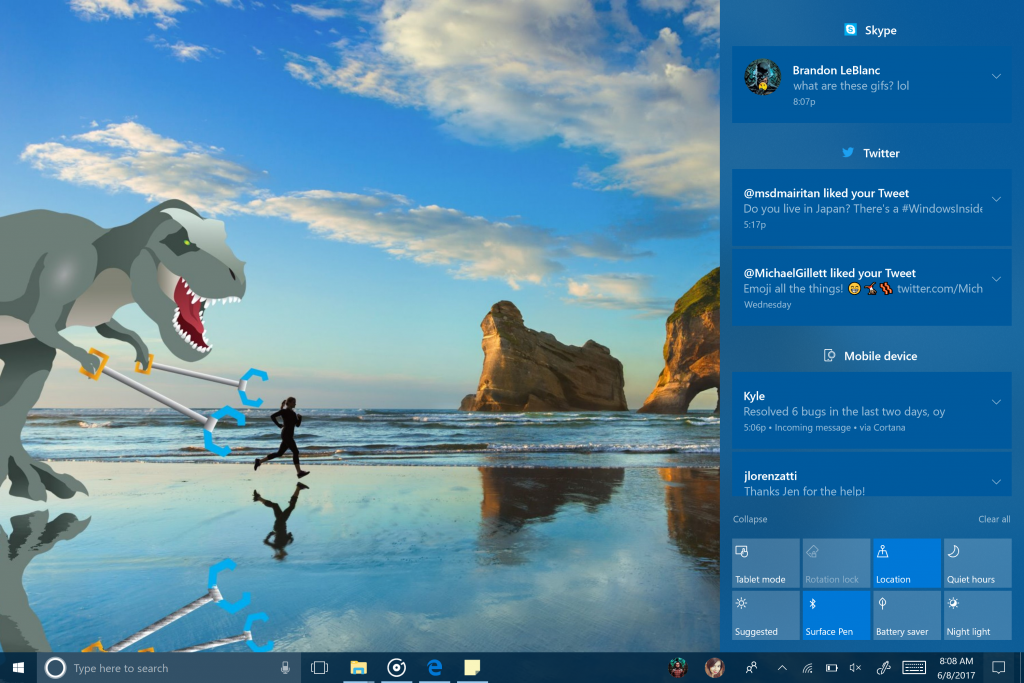 Start improvements include:
Acrylic: If you have transparency enabled for Start, you'll notice it's now been updated to use the new acrylic design.
Vertical resize: No more glitches at the bottom of the frame.
Horizontal resize: The frame now starts resizing horizontally immediately (like vertical resize), as opposed to only "snapping" to certain widths.
Diagonal resize: The frame can be resized diagonally!
Resize grips: It's now easier to "grip" the edge of the frame to start resizing.
Tablet mode transition: Smoother transition into tablet mode.
A new look for Action Center: Action Center has been redesigned based on your feedback to provide much clearer information separation and hierarchy. And the new design for Action Center also includes elements of our Fluent Design System such as acrylic! (and in case you were wondering, we've also added acrylic to our notification toasts!). As a reminder, you can customize the visible quick actions by going to Settings > System > Notifications & actions.
Microsoft Edge Improvements
Pin your favorite websites to your taskbar: Pinned sites are back! We heard your feedback, and are in this build you can now pin a website to the taskbar from Microsoft Edge! We'll use the site's icon to give you quick access to your favorite sites right from the taskbar. Simply select "Pin this page to the taskbar" from the settings menu in Microsoft Edge.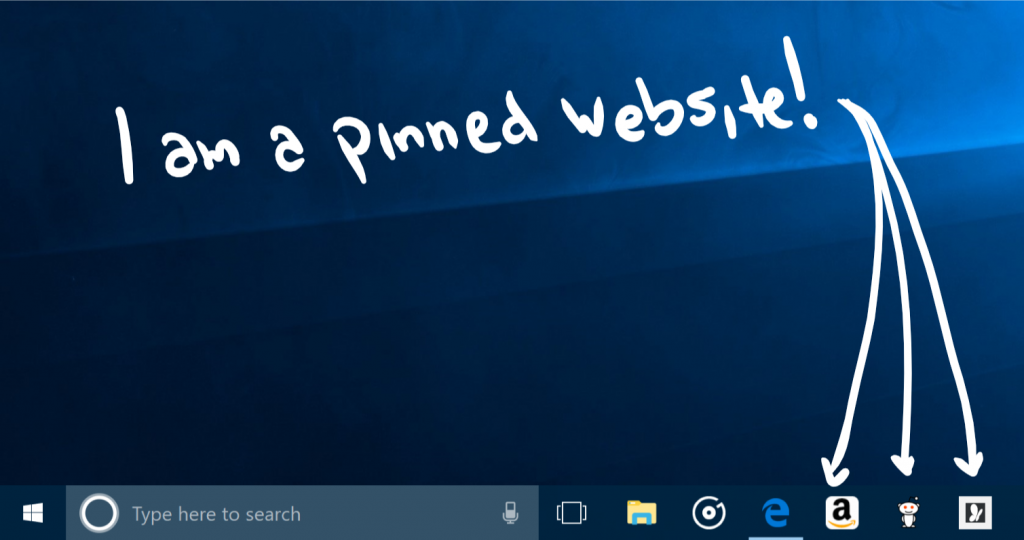 Full screen mode (F11) in Microsoft Edge: This build introduces a new Full Screen experience in Microsoft Edge. Simply press F11 or choose the new Full Screen icon in the Settings menu to take your websites full-screen. You can exit Full Screen view by pressing F11 again, or by clicking the Restore icon in the top-right corner.
Other Microsoft Edge Improvements, including:
Microsoft Edge's splash page (seen when newly launched) so that the color transitions more smoothly to the Start and New Tab pages.
You will now be able to close the Microsoft Edge app directly using the close button, even when a JavaScript dialog is showing.
We've added an option to "Add tabs to favorites" from the right-click context menu on tabs. Using it will create a Favorites folder with all the sites open in tabs in the current window.
New tabs will now animate more smoothly onto the tab bar when opened and closed.
We've improved session restore behavior so that when a multi-window Microsoft Edge session is restored by clicking on a link (for example, from an email), the window in focus at the end of restoration is the one containing the new link.
This and many more features are coming on board.Visit this Microsoft link to get full recap of the updates they are bringing on board.