Technology is making our lives easier than ever before. With one tap, we can call a car to pick us up, order dinner, or share a photo. But when it comes to issues that specifically impact women, we're often stuck in the last century. Women's health tracking is one of these issues.There hasn't been any true innovation in this area for decades.Now AVA is here to help our beautiful women.With Ava Couples who time intercourse accurately double their chances of conceiving in a given month.

According to the company they built Ava because they believe that women deserve a more modern method of tracking their cycles and their health at every phase of life. They deserve accurate, reliable data about their fertility, about pregnancy, and how their cycle fits into the bigger picture of their health—delivered in a way that's convenient and non-invasive.
Ava is clinically proven to detect the very beginning of the fertile window—in real time, as it happens. That's totally different than OPKs, which only detect the last day or two of the fertile window, and the temperature method, which only confirms ovulation after the fact.The App comes with Cycle insight, this allows the user to understand how your cycle impacts their health with features like symptom tracking, trend analysis, graphs, and more. Trend analysis lets you see how your menstrual cycle impacts the way you feel throughout the month.
"What many women and their partners don't realize is that a woman can only get pregnant five days before ovulation and the day of ovulation itself," lead researcher Dr. Brigitte Leeners said in a statement. "In our research, we found that resting pulse rate usually is lowest during menstruation but rises significantly five days before ovulation and again after ovulation. Ava is the first technology that uses temperature, resting pulse rate, and other parameters, including heart rate variability, sleep and bioimpedance, to provide a convenient and accurate at-home method to identify the beginning of the fertile window."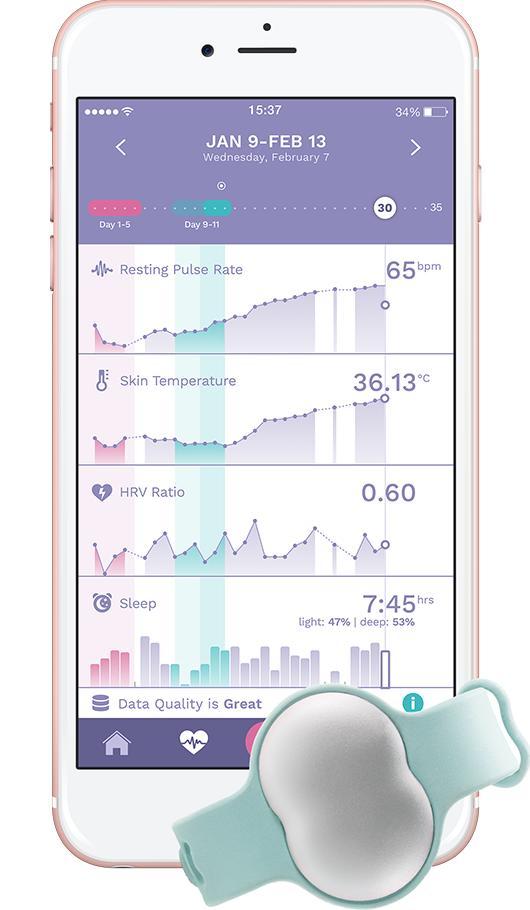 Also Ava deals with your Health data, it Tracks your sleep, physiological stress levels, and resting heart rate—so you can see whether your lifestyle is supporting optimal health.Effortless.There's no need to take your temperature or pee on sticks. Just wear Ava when you sleep and sync when you wake up.
When it comes to Pregnancy tracking Ava is still there for you once you conceive. Once you get pregnant, it gives a whole new app experience with detailed explanations about what to expect in each week of pregnancy. You'll be able to continue tracking your sleep, physiological stress, and resting pulse rate, as well as compare your weekly weight gain to standard recommendations.
The Science Behind Ava
Using physiological parameters to track a woman's cycle and health.Ava is the first product that uses resting pulse rate, along with other physiological parameters, to detect the fertile window in real-time.
Most fertility monitoring products are based on a single parameter, providing an incomplete picture of the user's fertility status. These parameters include basal body temperature and urinary LH. Used alone, none of these methods is able to accurately detect both the beginning of the fertile window and confirm ovulation. Furthermore, the reliability of a single parameter may be compromised by confounding factors.
For these reasons, many women use multiple fertility tracking methods simultaneously, a tedious and time consuming process.Unlike other methods for tracking fertility, Ava detects changes that occur at the beginning of the fertile window as well as after ovulation, removing the need for the user to track multiple parameters herself while also providing more accurate predictions.
To know more about AVA follow this link AVA Frankly speaking, I recommend Ava for every woman, Guys please try to get it for your beautiful ladies.Happy Mothers Day to all my ladies.