Now the New Chinese astronaut selection and space station missions exposed .Although China's first astronaut only flew on orbit in 2003, relevant research on space medicine including biology sounding rocket launches began as early as the 1960s.
Following the launch of the manned space programme (Project 921) in 1992, a total of 21 astronaut candidates in two groups have been selected to receive training for spaceflight missions. Among them, ten people have flown in space so far.
China is planning to train more astronauts including doctors and engineers to work on its future space station.China has provided an update to its human spaceflight plans, announcing that a third selection round of 10-12 astronauts – including two women – will take place this year, while outlines of crewed missions to the future Chinese Space Station (CSS) are taking shape.
While the two previous rounds drew on air force pilots, the third astronaut selection will seek candidates with more diverse backgrounds, reflecting the changing requirements for CSS objectives."Scientific experiments are going to be a major part of the new space station, so we're going to need astronauts who have the right backgrounds," said Yang Liwei, deputy director of China's manned space engineering office.
Yang, who became China's first astronaut in space in 2003, was speaking to Chinese media on Tuesday on the sidelines of the Global Space Exploration Conference (GLEX 2017) in Beijing.Although China only sent its first astronaut to orbit in 2003, space medical research in the country began as early as the 1960s.
Under the suggestion of Dr Qian Xuesen, the father of China's missile and space programme, the Institute of Cosmos Medicine & Engineering Research (507 Institute) was formed on 1 April 1968 out of the Institute of Biophysics of the China Academy of Sciences, Unit 236 of the People's Liberation Army (PLA), and the Military Work Physiology Research Institute of the PLA Academy of Military Medicine.
Primary responsibilities of this military-run institute included conducting researches in space medicine and organising astronaut selection and training.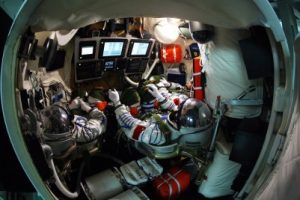 507 Institute took part in the astronaut selection process for China's manned spaceflight programme in the early 1970s (Project 714). A total of 88 potential candidates were picked from a pool of 1,918 military fighter pilots to undergo a highly secretive selection process in Beijing.
The candidates were screened for their physical conditions such as age, height, weight, medical history, service history and performance, as well as their political loyalty and family background. Eventually 19 people were chosen to join the Astronaut Training Group. However, the proposed astronaut training ended abruptly before it even began in the aftermath of the 'Lin Biao Incident' in September 1971.
After Project 714 was quietly abandoned in the mid-1970s, 507 Institute narrowly escaped the fate of being axed and was allowed to continue its research on space medicine. By the early 1980s, the institute had constructed a large ground astronaut training and testing facility, which consisted of spaceflight environment simulators (vacuum chambers), spaceflight dynamic simulators (human centrifuge, vibration table, impact tower, etc.), and spacecraft simulators.
The facility was partially declassified in the mid-1980s, with publicity photos showing human testers undergoing various astronaut training and space medical testing at the facility.Following the 1992 decision to embark on a new manned spaceflight programme (Project 921), 507 Institute became the leading organisation responsible for all human-related elements of the programme, known as the "Astronaut System", or "System 921-1").
These included the development of the Shenzhou vehicle's life support and environment control system, biotelemetry system, astronaut seat, space food, pressure suit, and ground training and simulation facilities, as well as managing astronaut selection and training, and providing medical monitoring and support for the crews throughout the mission preparation and implementation stages.
On 5 January 1998, the PLA Astronaut Group was created under the jurisdiction of 507 Institute. The group initially consisted of 14 astronaut candidates as well as technical and training staff. In 2010, the Astronaut Group was expanded with the addition of 7 new astronaut candidates (including two females) to support the follow-on missions in the human spaceflight programme.
Since the late 1990s, 507 Institute has been more commonly known as the Astronaut Centre of China (ACC), though it still remains a military installation subordinated to the PLA General Armaments Department. Consisting of 15 research departments and a laboratory workshop, the ACC conducts its astronaut training and space medical research activities at its headquarters and primary training facility inside the Beijing Space City, a square-mile campus located in Tangjialing, in the northwest suburbs of Beijing.
Just like Russia and the United States, China has limited its early astronaut recruitments to active-service military pilots only, a reflection of the test flight nature of the missions in the early stage of the manned spaceflight programme. Candidates must be aged between 25 and 30, in a height range between 160 and 172 cm and weight range between 50 and 70 kg, with at least 800 flying hours, degree-level education, and outstanding physical and mental conditions.
Candidates are also screened for their political loyalty and professionalism. In addition, having successfully handled emergency situations in flight is viewed as a distinctive advantage.The first group of 14 astronaut candidates were recruited into the manned spaceflight programme in 1998. They were selected from a pool of 1,506 qualifying fighter jet pilots, of which 886 were shortlisted for the selection process.
After a six-month screening and selection, 60 candidates were kept. Finally, 12 people were chosen as the candidates for the Shenzhou test flight missions. They were: Yang Liwei, Fei Junlong, Nie Haisheng, Zhai Zhigang, Liu Boming, Jing Haipeng, Liu Wang, Zhang Xiaoguang, Chen Quan, Pan Zhanchun, Deng Qingming and Zhao Chuandong.
In addition, two air force pilots, Wu Jie and Li Qinglong, were selected in 1995 to receive a two-year training programme for flying the Soyuz-TM spacecraft at the Yuri Gagarin Cosmonaut Training Centre in Russia. Among them, Wu Jie was trained as the Mission Commander with speciality in rendezvous docking, and Li Qinglong was trained as the Flight Engineer with speciality in extravehicular activity (EVA). They completed their training programme and returned China in January 1998 to join the other 12 astronaut candidates.
Of the 14 candidates in the 1998 group, 8 had flown in six missions. Yang Liwei became the first Chinese astronaut to have flown in orbit on Shenzhou 5 in October 2003, followed by Fei Junlong and Nie Haisheng in the Shenzhou 6 mission in October 2005. A three-man crew consisting of Zhai Zhigang, Liu Boming and Jing Haipeng flew in the Shenzhou 7 mission in September 2008, with Zhai and Liu performing a 20-min spacewalk (EVA).
Yang Liwei and Fei Junlong are no longer active, having undertaken managerial positions within the ACC and PLA Astronaut Group respectively.In 2010, China announced that it had completed the selection of a second group of 7 astronaut candidates, including five males: Chen Dong, Cai Xuzhe, Ye Guangfu, Tang Hongbo, Zhang Lu; and two females: Liu Yang and Wang Yaping.
The five male candidates were all selected from jet fighter pilots, while the two female candidates were selected from transport aircraft pilots. Between them they shared an average flying time of 1,270.7 hours.In June 2012, Jing Haipeng became the first Chinese astronaut to have flown two missions in the Shenzhou 9 mission, along with two first-timers Liu Wang (1998 group) and Liu Yang (2010 group, female).
In June 2013, Jing Haipeng became the second two-mission astronaut in the Shenzhou 10 mission, along with two first-timers Zhang Xiaoguang (1998 group) and Wang Yaping (2010 group, female).
For early manned spaceflight missions, the primary role of the crew was to fly the spacecraft vehicle as a team, and demonstrate the various techniques such as rendezvous docking and EVA. The training accomplished by these crews was largely focused on the various flight mission procedures, from launch to rendezvous docking and undocking, re-entry and recovery, to emergency and contingency scenarios.
Future missions onboard the space station will require the crews to carry out some sophisticated scientific researches and experiments, which demand in-depth knowledge and experience in a particular field of science. As a result, the existing pool of pilot astronauts will need to be augmented by "scientist astronauts" – mission specialists recruited from aerospace engineers, medical doctors, psychologists, astronomers, etc.
During the 27th Planetary Congress of the Association of Space Explorers in September 2014, Huang Weifen, Deputy Chief Engineer of the ACC, revealed that the recruitment of the third group of astronauts was to commence within two years. She told the congress delegates that the source for future Chinese astronauts would expand from military pilots to also include aerospace engineers and medical professionals.