A In many parts of the world invasive species contribute to destruction of local ecosystems, already threatened by climate change. An invasive species can be any kind of living organism—an amphibian (like the cane toad pictured left), plant, insect, fish, fungus, bacteria, or even an organism's seeds or eggs—that is not native to an ecosystem and which causes harm.
They can harm the environment, the economy or even, human health.One of the most pervasive is the lionfish, a voracious predator from Asia that is depleting native coral reef fish in the Caribbean. Now, a new underwater robot is showing off a way that technology can help on the front line fight against invasive species. VOA's George Putic have this to say in the video.
Lionfish are native to the Indo-Pacific, but are now established along the southeast coast of the U.S., the Caribbean, and in parts of the Gulf of Mexico.
A Look at the Robot: The Guardian LF1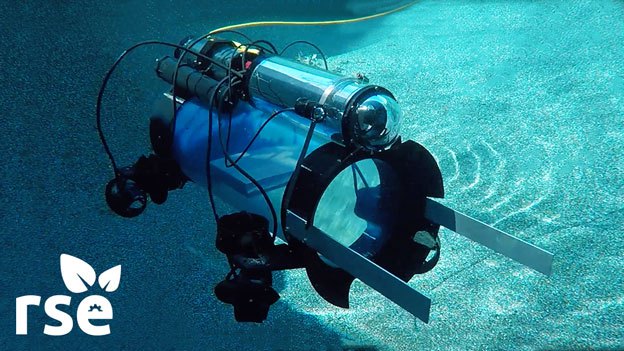 The Guardian LF1 undersea robot consists of two main components: an underwater remotely operated vehicle (ROV) with an innovative capture mechanism, tethered to a remote surface control station.
The underwater ROV is deployed from the ocean surface to seek out lionfish which can be located up to several hundred feet below safe sport diver depth.
An operator at the surface controls the Guardian LF1 movements via a game controller locating and capturing lionfish. Eight separate thrusters mounted on the ROV enable it to move smoothly in all planes of motion and maintain position regardless of undersea currents using an onboard autopilot.




Once a lionfish has been identified by the operator, through cameras and lights on the ROV, a pair of electrodes mounted on the ROV are used to apply a small electric current to the water near the fish. The operator safely controls the application of this low voltage alternating electric current, activating it for a very short period to stun and immobilize the fish.
Similar technology is used regularly by marine biologists in freshwater to humanely capture and release fish unharmed. The RSE team collaborated with experts in the field of electrofishing to adapt this technology for use in salt water.
As soon as the lionfish is immobilized, it is quickly suctioned into a containment vessel on the ROV.  An innovative suctioning system was especially designed by the RSE engineering team that requires minimal power while producing a strong flow to draw in the stunned fish. A single robot can capture up to 10 lionfish before returning to the surface. The design is modular which will allow future versions to hold more or fewer fish.
How did the fish get to the Atlantic?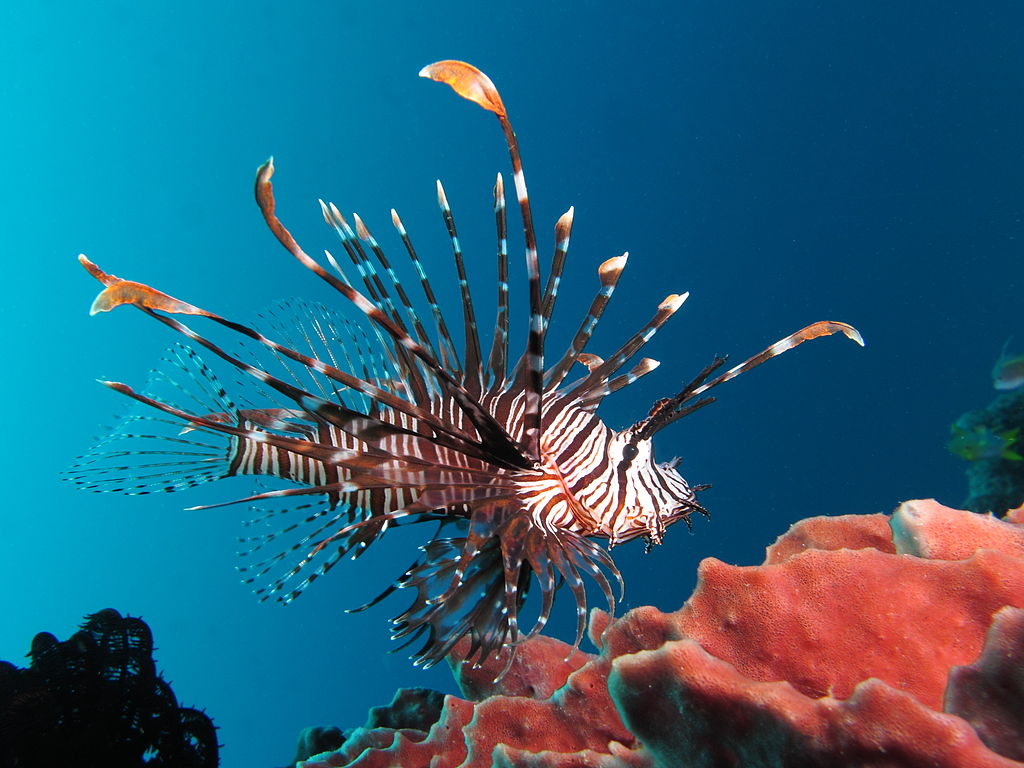 According to National Ocean Service(NOAA) in USA, they dont know the exact cause is unknown, it's likely that humans provided a helping hand. Experts speculate that people have been dumping unwanted lionfish from home aquariums into the Atlantic Ocean for up to 25 years .




Since lionfish are not native to Atlantic waters, they have very few predators. They are carnivores that feed on small crustaceans and fish, including the young of important commercial fish species such as snapper and grouper.
Unfortunately, NOAA researchers have concluded that invasive lionfish populations will continue to grow and cannot be eliminated using conventional methods. Marine invaders are nearly impossible to eradicate once established.
More on Lionfish
Pterois is a genus of venomous marine fish, commonly known as lionfish, native to the Indo-Pacific. Pterois, also called zebrafish, firefish, turkeyfish or butterfly-cod, is characterized by conspicuous warning coloration with red, white, creamy, or black bands, showy pectoral fins, and venomous spiky fin rays.




Pterois radiata, Pterois volitans, and Pterois miles are the most commonly studied species in the genus. Pterois species are popular aquarium fish.P. volitans and P. miles are a recent and significant invasive species in the west Atlantic, Caribbean Sea and Mediterranean Sea
With the help of this technologies we can protect our environment.lets all come together and protect our environment for a great future.