Beloved now technology is here to support your sleep.The Sunrise Smart Pillow tracks your sleep, wakes you with light, streams your favorite music, and reinvents the alarm clock.the Sunrise Smart Pillow, and it promises to "revolutionize your mornings and your nights" and help you bid adieu to restless nights and groggy mornings alike.





What the smart pillow works is pretty amazing!!In the morning your pillow will simulate a full sunrise. The gradually increasing light falls on your sleeping eyelids telling your body to stop producing Melatonin (the sleep hormone) and begin producing the energy hormone. This mimics the natural wake-up process you get when waking up to nature. By controlling when the sun rises in your bedroom, you can minimize fatigue and grogginess every day.
When it's time to get out of bed, your smart pillow will simulate a sunrise. So even if you're rising before the sun (or just sleeping with the curtains fully drawn), the light strips located in the sides of the pillow will gently rouse you much as natural streaming light would. Just set your alarm, and the pillow will do the rest.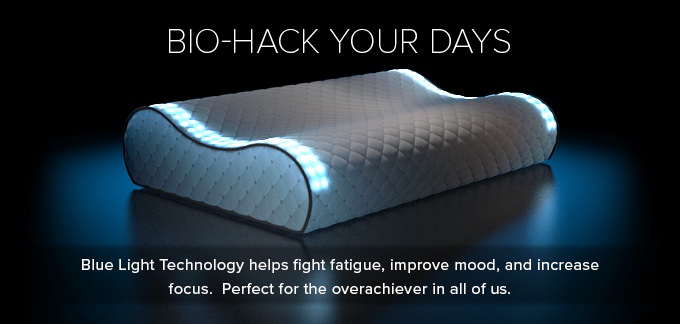 Only the highest grade materials was used when designing the Sunrise Pillow. All of the intelligent components are invisibly embedded deep within premium aerated memory foam. The pillowcase is made with ultra-breathable diamond-quilt fabric to maximize comfort, cooling, and airflow. When creating the sunrise pillow, comfort and materials were at the top of our list.
A storage pocket holds the wired remote control; an alternative way to control your Sunrise Pillow. Control everything from your iOS or Android device or use the remote control to adjust volume, reading lights, and even snooze. Conveniently recharge your Sunrise Pillow via Micro USB charging port located on the remote control.




How you sleep is only half of the equation. Nature's sunrise isn't just to light the way to the work in the morning. The gently rising light starts an invigorating chain reaction that's natural and is key to being your best and feeling vibrant, every day.Now get smart and lets revolutionize your sleeping.