The number of children who gets overheated and dies inside cars is increasing at a very high rate, and Texas had the highest number of cases. 39 toddlers died in 2016 as a result of being left inside sweltering cars after being forgotten about by their parents.
A boy from Texas has invented a device which he hopes will save the lives of babies and young children if they become locked in a hot car. A 10-year-old boy from McKinney has invented what he hopes is a life-saving tool that every parent could use.
After hearing about an infant who passed away after being left in a hot car in his area, Bishop Curry V decided that something had to be done. Bishop Curry V says he was inspired to create a device he calls "Oasis" after a baby died in a hot minivan last summer outside a home in Melissa. This tragedy seems likely to hit his family because they have a one-year-old baby at home.
Bishop was inspired to create a device he calls "Oasis," which would attach to a car seat and detect if a child is left inside the vehicle, prompting it to blow cool air until parents or the police are notified.
"Sometimes babies fall asleep and they're really quiet, so if you're rushing home from work or you're rushing to the grocery store, I could see how somebody could forget," said Curry (Bishop's father), who is an engineer for Toyota in Plano, Texas.
The device works by first detecting that a child has been left in the car and blowing cool air on the baby until the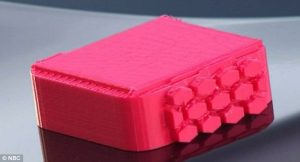 parents or authorities arrive. It also sends a text to parents and officials letting them know the child is in the hot car. With the Oasis device attached to the car seat, Curry V hopes to stop the trend of children dying in hot cars.
"It would be a dream to have lots of inventions that would save many lives," the precocious 10-year-old told the news station.
After seeing the idea drawn up, Bishop Curry IV (an employee with the Toyota company) decided to pitch the invention to the company in hopes that they would like it enough to get behind the idea.
Now with the support of his family, Toyota executives and many other, Curry V has created a clay prototype and has launched a Go Fund Me page to help raise money for manufacturing. The fifth grader already has a provisional patent on the "Oasis," and Toyota has already taken notice of the invention. The Currys recently traveled to Michigan to introduce the idea at an auto safety conference.
The device is still in the design phase, but it's developing by leaps and bounds. Bishop already has a provisional patent for the device, and his dad's employer, Toyota, has taken notice of it.