Today I bring to you all the amazing exclusive facts behind the Commissioning of US Navy's USS Gerald Ford Aircraft Carrier.According to the US Navy, the aircraft carrier Gerald R. Ford will be commissioned on July 22, at Naval Station Norfolk.USS Gerald R. Ford (CVN 78) will represent a new class of carriers by pioneering new technologies.
This will be the U.S. Navy's most expensive warship of all time, with total costs for the USS Gerald Ford estimated at almost $13 billion, including $2.3 billion in cost overruns due to the ship's many new and unproven systems.
The new carrier features a host of new and untested technology, including the ship's two main turbine generators, a new dual-band radar system, advanced weapons elevators, and a new advanced arresting gear on the flight deck. U.S. President Donald Trump objected to the installation of some of the new systems such as General Dynamics' new electromagnetic aircraft launch system (EMALS) aboard the USS Gerald R. Ford, as I reported in May.
Naming of the Ship
In 2006, while Gerald Ford was still alive, Senator John Warner of Virginia proposed to amend a 2007 defense-spending bill to declare that CVN-78 "shall be named the USS Gerald Ford." The final version signed by President George W. Bush on 17 October 2006 declared only that it "is the sense of Congress that … CVN-78 should be named the U.S.S. Gerald R. Ford." Since such "sense of" language is typically non-binding and does not carry the force of law, the Navy was not required to name the ship after Ford.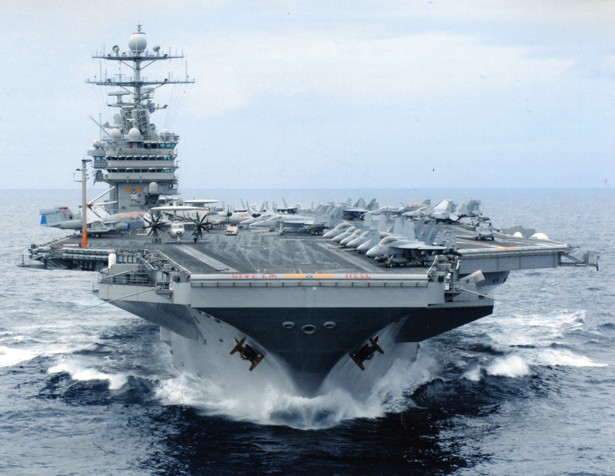 On 3 January 2007, former United States Secretary of Defense Donald Rumsfeld announced that the aircraft carrier would be named after Ford during a eulogy for President Ford at Grace Episcopal Church in East Grand Rapids, Michigan.Rumsfeld indicated that he had personally told Ford of the honor during a visit to his home in Rancho Mirage a few weeks before Ford's death.
This makes the aircraft carrier one of the few U.S. ships named after a living person. Later in the day, the Navy confirmed that the aircraft carrier would indeed be named after the former President.On 16 January 2007, Navy Secretary Donald Winter officially named CVN-78 USS Gerald R. Ford. Ford's daughter Susan Ford Bales was named the ship's sponsor.
The announcements were made at a Pentagon ceremony attended by Vice President Dick Cheney, Senators Warner (R-VA) and Levin (D-MI), Major General Guy C. Swan III, Bales, Ford's other three children, and others.The USS America Carrier Veterans Association (CVA) had pushed to name the ship USS America.
The CVA is an association of sailors who served aboard USS America (CV-66). The carrier was decommissioned in 1996 and scuttled in the Atlantic, as part of a damage test of large deck aircraft carriers in 2005, and LHA-6 was named America.
Everything About the Commissioning
USS Gerald R. Ford (CVN 78), first of a new class of nuclear-powered aircraft carriers for the Fleet, will represent a new class of carriers since USS Nimitz (CVN 68) that was commissioned in 1975. USS Gerald R. Ford (CVN 78) will pioneer new technologies such as electromagnetic catapults and arresting gear, a new island structure, expanded flight deck that will allow aircraft to be launched faster than ever before, 250 percent more electrical power, two next generation nuclear reactors and 500 fewer crew members.
The Navy League and the Commissioning Committee through a campaign of fundraising and public education, will work to improve the quality of life for all crew members and enhance civilian understanding and appreciation for sea power as a component of our national defense and for the Navy's role in working toward peace and global security.
The Commissioning Committee has been established and made up of a broad representation of individuals from across the country that are dedicated to our mission of assisting the United States Navy in bringing the first of a new class of aircraft carriers to life in 2016. Our objective is to fund what the Department of Defense does not, such as ship enhancements that will improve the quality of life for all those who will serve aboard this ship for the next fifty years.
CVN 78 is named for a man who embodied integrity, honor and courage. This ship will serve as a living tribute to the 38th President of the United States Gerald R. Ford. For the United States Navy, this ship symbolizes the future of naval propulsion and naval aviation, and a continuation of our nation's dominance of the seas.
The ship's crest incorporates many symbols reminiscent of President Ford's life and legacy, including a fleur-de-lis on the compass pointing true north, which comes from his rank of Eagle Scout in the Boy Scouts; and 38 stars surrounding the emblem to represent his tenure as the 38th President of the United States, 26 stars are a different color to denote his time stationed aboard USS Monterey (CVL 26) during World War II. The crest's colors include blue and maize for his undergraduate alma mater, University of Michigan.
" For in America, the best has never been-it is always yet to be" President Gerald R. Ford, 38th President of the United States.It is expected to be operational in 2020, according to Naval Sea Systems Command.Work is under way on the next two Ford-class carriers at the Newport News shipyard, a division of Huntington Ingalls Industries and the sole builder of nuclear-powered aircraft carriers for the U.S. Navy.
The future USS John F. Kennedy is under construction, while advance work has started for the future USS Enterprise.