This is the Live Telecast of SpaceX BulgariaSat-1 launch by Falcon 9 rocket. SpaceX is targeting launch of BulgariaSat-1 from Launch Complex 39A (LC-39A) at NASA's Kennedy Space Center in Florida. The two-hour launch window opens on Monday, June 19, at 2:10 p.m. EDT, or 18:10 UTC, with a backup launch opportunity on Tuesday, June 20, at 2:10 p.m. EDT, or 18:10 UTC. BulgariaSat-1 is the first geostationary communications satellite in Bulgaria's history.
Bulgaria Sat, headquartered in Sofia, Bulgaria, is the country's only satellite operator. The company provides satellite communications to broadcast, telecom, corporate and government customers. Bulgaria Sat is an affiliate of Bulsatcom, the largest provider of pay-TV services in Bulgaria.
Live Telecast of the Launch
Falcon 9's first stage for the BulgariaSat-1 mission previously supported the Iridium-1 mission from Vandenberg Air Force Base in January of this year. Following stage separation, Falcon 9's first stage will attempt a landing on the "Of Course I Still Love You" droneship, which will be stationed in the Atlantic Ocean.
About SpaceX
Space Exploration Technologies Corporation, better known as SpaceX, is an American aerospace manufacturer and space transport services company headquartered in Hawthorne, California. It was founded in 2002 by entrepreneur Elon Musk with the goal of reducing space transportation costs and enabling the colonization of Mars.SpaceX has since developed the Falcon launch vehicle family and the Dragon spacecraft family, which both currently deliver payloads into Earth orbit.
More on BulgariaSat-1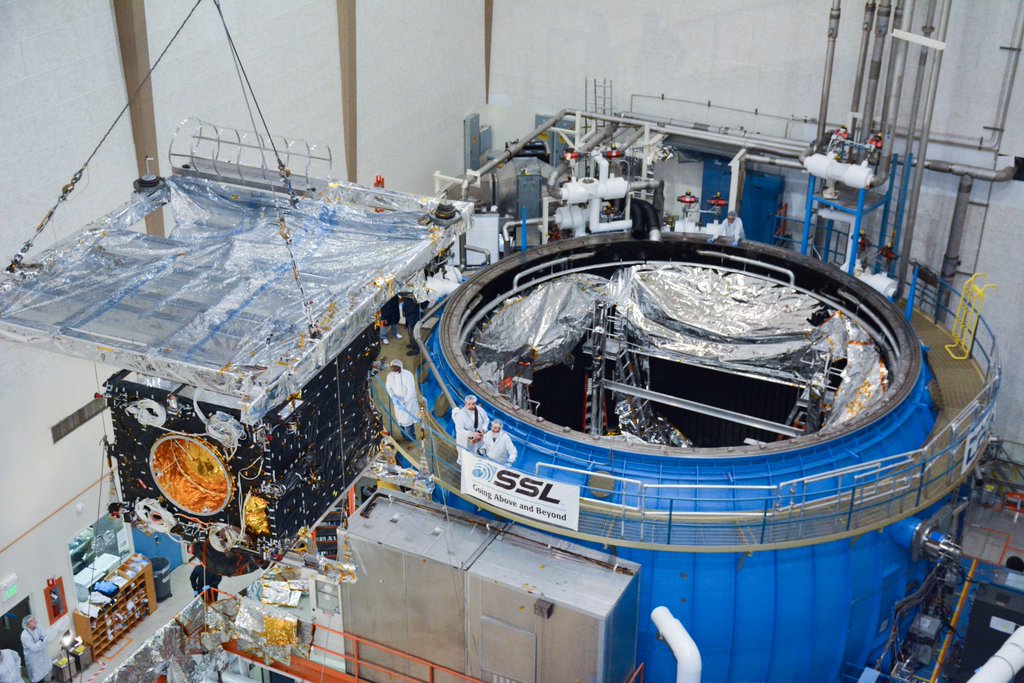 BulgariaSat-1 is a geostationary communications satellite operated by Bulgaria Sat and manufactured by SSL,based on the space-proven SSL 1300 satellite platform. With an orbital position 1.9° east and its payload is composed of 30 Ku-band BSS transponders and 2 Ku-band FSS transponders for fixed satellite services and high-definition television broadcasts.
The satellite will be powered by six solar panels, which together will generate 10 kW of solar power. It is designed to deliver service for 15 years with a projected fuel life of over 20 years, thanks to the lifting capabilities of the SpaceX F9 launch vehicle and the actual super-synchronous transfer orbit (SSTO) launch.
SpaceX will launch BulgariaSat-1 from Cape Canaveral, Florida no earlier than 23 June 2017. BulgariaSat-1 will be delivered in orbit on a flight-proven SpaceX Falcon 9 rocket.
BulgariaSat-1 is the first in the history of the country geostationary communications satellite at the Bulgarian orbital position and is designed to provide Direct-to-Home (DTH) television service and data-communications services to the Balkans and other European regions.
The Return of Falcon 9 Rocket
Falcon 9 is a family of two-stage-to-orbit launch vehicles, named for its use of nine first-stage engines, designed and manufactured by SpaceX. The Falcon 9 versions are Falcon 9 v1.0 (retired), Falcon 9 v1.1 (retired), and the current Falcon 9 Full Thrust, a partially-reusable launch system. Both stages are powered by rocket engines that burn liquid oxygen (LOX) and rocket-grade kerosene (RP-1) propellants. The first stage is designed to be reusable, while the second stage is not.
Falcon 9 versions perform in the upper range of the medium-lift class of launch systems. The current "Full Thrust" version can lift payloads of up to 22,800 kilograms (50,300 lb) to low Earth orbit, and up to 8,300 kg (18,300 lb) to geostationary transfer orbit (GTO), when configured in expendable mode.The first stage can be recovered and reused for GTO payloads up to 5,500 kg (12,100 lb).
Mission History
In September 2014, Space Systems/Loral (SSL) was selected to manufacture the television broadcasting spacecraft in Palo Alto, California, and a SpaceX Falcon 9 rocket to launch the satellite. SSL assisted Bulgaria Sat in obtaining all of the financing for the satellite, including export credit financing from the Export–Import Bank of the United States.
In March 2016, Bulsatcom announced that it aims to launch the first Bulgarian geostationary communications satellite BulgariaSat-1 into orbit by the end of 2016, two years after the start of its production.