The USA Army has closed its initial solicitation phase for designs to create a next generation precision mortar that will allow Soldiers to put their rounds on target with extreme accuracy."The increased maneuverability will allow Soldiers to engage targets that may have moved or repositioned since the time the call for fire occurred," Gibbs said. "If the target has moved, you can still hit it if the laser has designated it."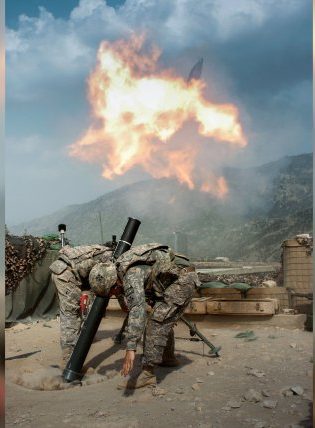 The 120 mm high explosive guided mortar, or HEGM program, is intended to replace the current precision-guided HE mortar, the accelerated precision mortar initiative or APMI.
The U.S. Army began seeking a guided mortar in response to fighting conditions experienced during the War in Afghanistan. Taliban fighters often engaged troops in small unit actions from prepared fighting positions on ridgelines and high ground.
These types of ambushes offered limited exposure targets to direct fire weapons, and close air support was limited from rules of engagement and bad weather. Troops also spotted Taliban movements along distant ridgelines or valleys but didn't have the range with direct fire weapons to target them.
Because of this, the Army started the Accelerated Precision Mortar Initiative (APMI) from an urgent operational needs statement in February 2009 to create a GPS-guided 120 mm mortar with accuracy of 5 m (16 ft) CEP at 7,000 m (4.3 mi); because APMI was an urgent request, it was accelerated by an Other Transaction Authority rather the traditional acquisition process.
GPS was chosen over laser designation as the guidance system because the enemy frequently ducked down behind ridges and rock outcroppings, so laser designation would have limited ability to target them, while a GPS round could give accurate targeting even when taking cover behind obstacles
The solicitation period, which ended Jan. 27,
sought feasible designs from the private sector to create a new "smart" mortar. While the HEGM round will incorporate state-of-the-art technology, the new round is intended to be a different design than APMI.
"The APMI solution was a tremendous asset for our Soldiers in Afghanistan," explained Lt. Col. Anthony Gibbs of Product Manager Guided Precision Munitions and Mortar Systems, which is part of the Program Executive Office Ammunition at Picatinny Arsenal, New Jersey.
"It filled their urgent need for a responsive precision mortar at widely dispersed combat outposts, and is available for our global response force today," he continued. "We're going to improve upon the existing technology and incorporate next-generation upgrades into HEGM, such as increased threat countermeasures and enhanced maneuverability."
The Army plans to award multiple contracts later this fiscal year. Companies that receive contracts will then create and deliver potential HEGM solutions for the U.S. government to test. A full and open competition will be conducted in 2018 to select the final solution.
"We received multiple proposals, and we've seen a lot of industry interest in the HEGM requirements," Gibbs said.
Credit:USA ARMY