US-Army-WASHINGTON officials on Saturday announced it will soon field a personal fitness bracelet that will allow Army leaders to track their Soldiers' fitness in real time.The US Army as we all know is rated among the top, in terms of ammunitions,technology and men.
Based on an official news release, The technology will enable Army leadership to monitor their Soldiers' activity level, physical location, and intake of foods, liquids, and other substances. It also allows leaders to provide remote mentoring in real time, according to Dr. Duke McDirkington, the lead scientific advisor from the U.S. Army's Research Institute of Environmental Medicine, or USARIEM, and the co-chair of the Army's Physical Training Belt Task Force.
"We know for a fact through scientific research and polls that Soldiers already love the 'PT' Belt," McDirkington said. "But they have demanded a device like this that would allow their leaders to send corrective guidance when the system detects a caloric spike due to things like junk food."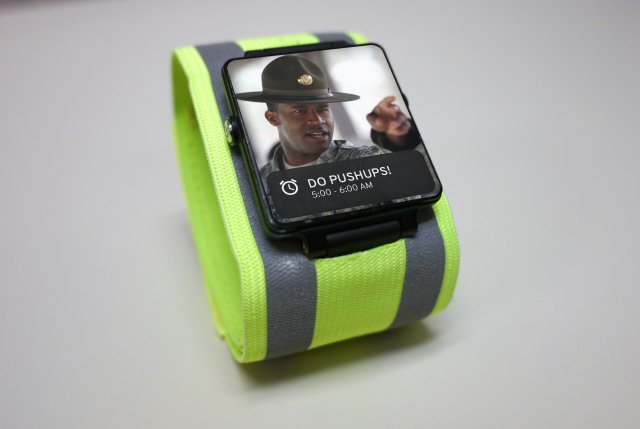 The congressionally-mandated joint task force of USARIEM, and Program Executive Office, or PEO, Soldier, has spent seven years developing the device, which is embedded in a reflective, elastic wristband similar in appearance to the PT belt. Like their dog tags, Soldiers will wear the new fitness tracking device at all times.
"This is an exciting component of the Army's modernization strategy and will take readiness to unprecedented levels," said Col. Simon Richards, task force co-chair from PEO Soldier.
Initially, the task force tested the device with a sample of 300 Soldiers at Joint Base Lewis-McChord, Washington, but further refinements of the bracelet's features are based mainly on feedback from Soldiers who responded to a Facebook poll, where the device elicited an enthusiastic response.
"This PT-Belt-looking bracelet is really going to maximize my personal HOOAHness," went one Facebook comment by 2nd Lt. Lenny Williams, a Washington, D.C. National Guardsmen.
"I'm a warrior, and it's super important to get my 10,000 steps in each day," commented Carl Steve, who is scheduled to tackle Junior Reserve Officer Training Corps, during his senior year. "I jumped all over those old guys on social media. They just don't get why it's important for Big Army to yell at their Soldiers whenever it's needed."
The new fitness device is scheduled to undergo field testing in June of 2017, with an expected Army-wide rollout on April 1, 2018.