The driverless robots can travel both in the sea and on the land. The robot will mostly be used as the first line of attack in a naval invasion.The US Marine Corps in recent years have proved its readiness for any form of attacks. are  testing a new robot called the multi-utility tactical transport (MUTT). MUTT is controlled remotely by a simple tablet and joystick, and future versions may even be completely autonomous.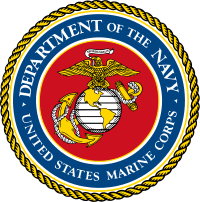 The United States Marine Corps (USMC), also known as the United States Marines, is a branch of the United States Armed Forces responsible for providing power projection, using the mobility of the United States Navy, by Congressional mandate, to deliver rapidly, combined-arms task forces on land, at sea, and in the air.




The U.S. Marine Corps is one of the four armed service branches in the U.S. Department of Defense (DoD) and one of the seven uniformed services of the United States. The current Chairman of the Joint Chiefs of Staff, the highest-ranking military officer in the U.S. Armed Forces, is a Marine Corps general.
Research shows that during the mid-20th century, the U.S. Marine Corps had become a major theorist of and the world's dominant practitioner of amphibious warfare. Its ability to rapidly respond on short notice to expeditionary crises gives it a strong role in the implementation and execution of American foreign policy. As of 2016, the USMC has around 182,000 active duty members and some 38,500 reserve Marines. It is the smallest of the U.S. Armed Forces within the DoD.
The Marine Corps machine-gun wielding robot can remotelly be controlled with just a tablet and a joystick.The Marine corps have a great future due to its research and implementations of modern technologies to improve their operations.I believe many countries will follow suit by using to modern technologies to improve it's defense.