Just like eight years ago when WhatsApp first started , the status feature is to let you keep your friends who use WhatsApp easily updated in a fun and simple way. WhatsApp did a massive overhauling in terms of its  introduction of the Snapchat-like WhatsApp Status feature. The Snapchat-like feature is battling with a lot of criticism from many users who wanted the old text-based status message back.
Many users missed the old status for many reasons, Based on my personal survey, this was the reports I received ;
24 hours statues Snapchat like statues is a major headache, since you have to change it every now and then.
Always Users have to waste data in order to view contacts statues.
When someone makes a comment on your statues, It appears like a message.
Due to all this complains the top social media App, have reconsidered bringing back the old statues with a  blend of the new feature. In the latest Android beta version 2.17.95, users are now seeing the revival of the old status message feature.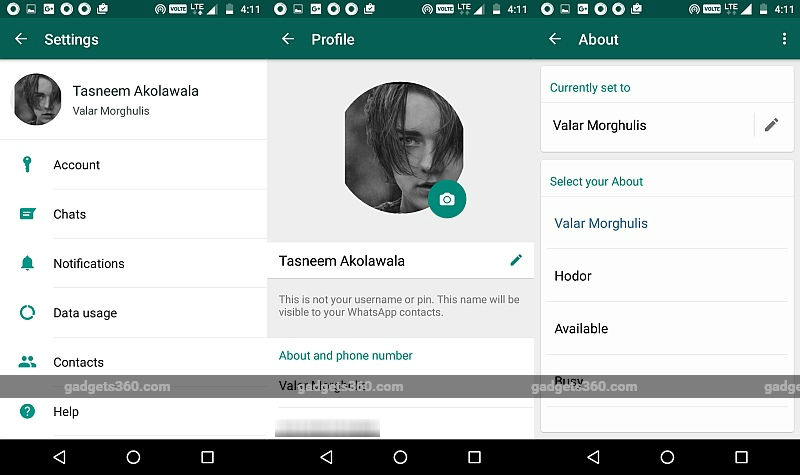 The move shows how social apps must quickly react to feedback if they make a false step in modernizing to adapt to visual communication.In mid-February, WhatsApp removed the feature that let you set an away message, and then gave the Status name to a Snapchat Stories clone. But last week, text Statuses reappeared in the Android Beta version of WhatsApp in the About section of profiles.
Now, WhatsApp tells TechCrunch that About Status will roll out to all Android users over the next week and is coming soon to iPhone. Users can open the About section of their profile to set a text Status, and view other people's by opening their contact when starting a new chat thread or looking at group chat info.
WhatsApp Just released a statement regarding the statues reformation:
"We heard from our users that people missed the ability to set a persistent text-only update in their profile, so we've integrated this feature into the 'About' section in profile settings. Now, the update will appear next to profile names anytime you view contacts, such as when creating a new chat or looking at Group info. At the same time, we're continuing to build on the new Status feature that gives people fun and engaging ways to share photos, videos and GIFs with their friends and family throughout their day."
Josh Constine (@joshconstine) of TechCrunch also made this statement regarding the reformation;

"Both the new WhatsApp Status and Messenger Day provide an obvious opportunity for these chat apps to monetize by injecting ads between friends' slideshows. They also could limit Snapchat's growth and prepare the products for a future more focused around visual communication. Yet the launches have led some to believe the features are more designed to fulfill Facebook's desires than users'. Rapid responses to feedback could keep these utilities from alienating their billion-plus audiences."
Please note that The comeback of the text status doesn't mean that the new WhatsApp Status feature will disappear. It still very much exists in a separate tab where you can add photos and videos that disappear in 24 hours, just like Snapchat. The tab also lists all the new updates from your contacts in the same format as you see on Snapchat. Unfortunately, there's no way (yet) to disable this feature completely based on a report by Gadget 360.
Now stay tuned and enjoy WhatsApp reformation release.I dont know your experience with the new WhatsApp, You can share it with us.