(Asia.Nikkei) -The world's largest provider of ocean weather data, Weathernews, successfully launched its own microsatellite on July 14, making it the first weather company to have its own satellite.It was the company's second try at putting a satellite into orbit after a failed attempt in 2013.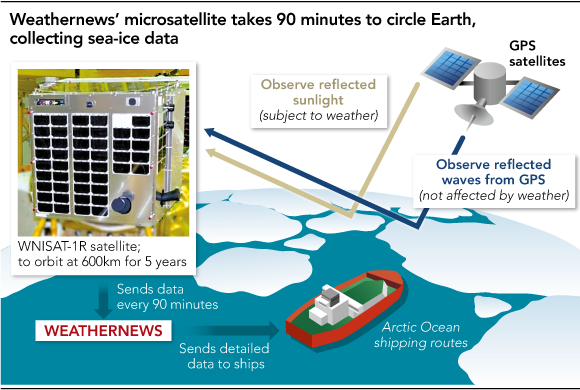 Weathernews transmits information and analysis to roughly 6,000 ships a year, including sea ice information for vessels plying Arctic routes. Its clients include Maersk Group of Denmark and other major shipping companies.Should the mission ultimately prove successful, the Japanese company will be well-positioned to boost revenue from other applications of its data.
Auspicious start
Some 200 employees of the company cheered in front of a screen at company headquarters in Chiba Prefecture near Tokyo as the Soyuz rocket carrying the WNISAT-1R satellite lifted off from Baikonur Cosmodrome in Kazakhstan.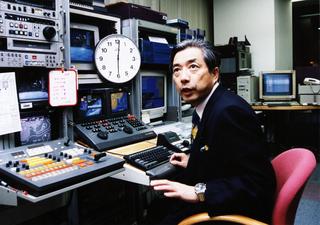 It is too early to deem the mission a success, considering that the company's first launch of a satellite four years ago had a similarly auspicious beginning.
After a few months, however, it stopped transmitting data. Still, President Chihito Kusabiraki emphasized at the time the importance of satellites to the company's growth, hence the second attempt.
Weathernews developed the new microsatellite jointly with Axelspace, a university-led startup based in Tokyo that also helped with the first satellite. The roughly 50cm cube-shaped satellite weighs just 43kg and is expected to orbit at an altitude of 600km for five years, collecting ocean and atmospheric data.
About half the company contract's involve ship routing services — route recommendations that allow vessels to meet fuel efficiency targets while running at optimal speeds. The recommendations are based on ocean risk projections. For example, Weathernews might suggest a route that avoids rough seas for a ship carrying new cars, which could be damaged by ship motion in a heavy storm.
The biggest task of the new satellite will be to increase the accuracy of navigation assistance for ships using Arctic routes during summer. This service will be valuable for shipping companies, which account for roughly 30% of the company's annual 14 billion yen ($127 million) or so in sales.
source: asia.nikkei.com